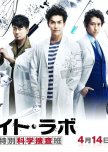 First of all, I'll just say that I started watching White Lab because I'm a huuuuuuge Hey!Say!JUMP fan and I'm Yabu Kota biased. Seeing screenshots for the show on tumblr, I decided to watch, even though Yabu had a minor role.
This show is amazing. Each mystery is compelling and interesting, and I kept finding myself yelling "OOOOOOOH MAN" at multiple points during episodes. The plot of the show as a whole is pretty simple but each mystery has multiple layers of complexity and makes you not want to look away. This also allows you to dive in at any point in the show because there isn't necessarily an ongoing story, but I still really recommend that you start at the beginning because then you can watch each character's growth throughout the show.
Really really great show. It's probably my new favorite drama.
(And Yamane is my favorite character, lol. I'm a liiiiittle biased.)
Was this review helpful to you?