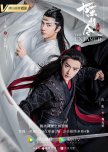 That's write, I'm so grateful I barely have the words left to explain why.
Back when I heard the were gonna turn Mo Dao Zu Shi into a drama, I was so worried about the inevitable influence the chinese censure would have on the story. Now, almost a year later and 50 episodes held close to my heart, I just feel so grateful to the entire crew for what they managed to do despite the hardship and obstacles they had to get around.
The cast was amazing, perfect from tip to bottom, the acting so intense I found mysef crying almost as much as I did for the novel. The are differences, yes, of course there are, but I valued each of them so much -both for what they took away from the story and make it gain. What scared me the most ended up being one of the many strength point this adaptation has, because we need to remember than MDZS is not just a BL, not just romance -it's a story where war, friendship, family, hatred, love, forgiveness and betrayal have all an incredibly important role, intertwining with each other in such a powerful way that it's hard not to weep in longing at the end of the voyage.
I feel lucky to be part of this fandom, even more to have watched this drama and come across so many talents -which I'll make sure to follow closely! I enjoyed it so much! So the only thing I can say is, from the bottom of my heart, thank you.
Was this review helpful to you?