The website is currently undergoing maintenance. Sorry for the inconvenience.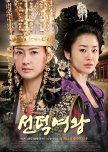 unforgetable, Just love this drama...I really liked the child's acting who played for the role of deokman..and i really liked the character of mishil (My fav character) but no doubt each and every actor/actress was amazing,62 episode seems boring?? No not at all, every episode captures your heart and make you watch more and more..even i have downloaded all episodes and whenever i get bored i just play it and enjoy it.Just hoping for some new drama like that..
Was this review helpful to you?