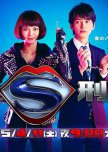 doS Deka
3 people found this review helpful
I didn't expect this drama to be so good, but right from the first episode i knew that i was wrong and now it is for sure in top 3 dramas i have watched. The cases they solve are mostly the usual detective story cases but the way that they made it is really good, i had a really great laugh and of course the best part of the drama are the actors, every actor (main characters) is perfectly adapted to the character they play. Also the friendship and weird personalities of the detectives makes the whole drama perfect.
For bad parts of this drama i can maybe say the fighting scenes (especially in the last episode fight) are a bit lower quality.
Recommend this show to everyone, it will make you laugh for sure while also pointing out serious questions about serious problems which are relevant for the society.
Was this review helpful to you?