If you're still experiencing technical difficulties, please report it
here
.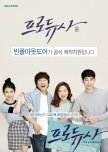 Tbh I only watched for Jisoo and the pre debut Jisoo stans did too, even if she was a small character I enjoyed her part most, I had such high expectations. When blackpink debuted cuts came out for her, she increased the views, if blackpink would of debuted earlier than it would up really increased the views.
Her acting was really good, and so was the main cast.
IU did really good too, and so did the others, but I'm a bit disappointed :( I saw the cast and thought " woah must be a good drama " but thats what it all was, good, not amazing or great, just ok, and if my internet went out I would watch it, but if I had a choice, id must likely just watch Jisoo's few liner parts... But its not total disaster the first two episodes pull you in, its you it went down heel from then out... They could've fixed it, but then they rushed the ending... :(
but if you do plan on watching it, don't let me get in your way, its what you think that matters most.
Was this review helpful to you?