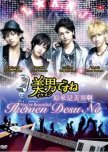 Alrighty! So I absolutely love the original Korean drama, but I also absolutely loved Ikemen Desu Ne as well. I just completed this drama, when I first started it I attempted to do so immediately after watching You're Beautiful. That just didn't work, but after a hearty 6 months in between I can truly appreciate the loveliness of it. They changed enough of the story to keep one interested plus it is much shorter than the Kdrama. This is fantastic because it is painful to watch angst filled episodes when one already knows the outcome (well for me atleast :P ). I really liked how they fleshed out some of the side characters a bit more like Mio's aunt and the director of the company. I also think Shu's character had a bit more depth here. The only character I really wish there was more development in was Yuuki. Perhaps this was a good thing though as one's heart is not wrenched out here as it is in the kdrama.
Acting and Music wise it was extremely well done. A lot of the same songs were present but altered. The actors all did a wonderful job. The gal acting as Mio was just wonderful and brought a sweet spirit to her without coming across as a ditz.
If you've seen You're Beautiful, give this a shot. It is a Japanese drama through and through, don't look for something exactly like the Korean one, it is fun because it is different. I don't think one can say this one is better or truly worse than You're Beautiful because Kdramas and Jdramas have such different themes and stylings.
Anyway lovely drama, hope some folks give it a shot!
Was this review helpful to you?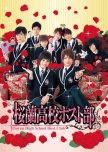 Now my review here probably is not the most objective as Ouran was one of the first animes I ever watched and the first drama I watched. It holds a special place in my heart and I absolutely love it! I just rewatched the drama since the movie should (hopefully) be uploaded soon. Story wise it is nearly the same as the anime with a few differences that I thought were excellent. They led to the relationships and certain characters to be developed. Don't expect everything to be like the anime because this is a live-action. Some things simply cannot be done. However they do add some quirky animations and include the crazy mind theatre of Tamaki.
The cast did a great job with their roles and really brought life to their characters. Kyoya's character was extremely well developed and was just wonderful. The twins and Tamaki were all perfect. The gal playing Haruhi for the most part did a great job, sure she didn't always show a lot of emotion, but Haruhi in the anime was pretty reserved as well (I haven't read the manga, please don't shoot me if this is wrong haha). Mori and Hunny acted their parts out well, they just were not given a lot of plot.
Music was pretty meh. Some of the instrumentals were lovely but would start at strange times.
I think this drama is definitely rewatchable as it is so short. 11 episodes at 20ish minutes is easy to do, and with the movie loose ends should be tied up nicely. Lovely, crazy, maddening standard manga/anime-Jdrama standard which I love. There are crazy antics and some lovely sweet scenes as well. If you need a laugh or a light hearted drama, watch Ouran.
Was this review helpful to you?