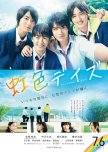 I thought this movie was going to all about romance and how it sometimes breaks friendships but I was pleasantly surprised. Rainbow Days has a cute romance don't get me wrong but my favorite part was the friendship that the four male leads shared. They were youthful and made me want to have friendships just like them. The main romance was cute but the other characters stories also kept me interested.
Acting- The acting was good and I really enjoyed everyone's performance especially the second female lead.
Plot- It was a little generic but the friendship really shined through.
Overall I would recommend this to anyone who wants to watch a fun light-hearted movie.
Was this review helpful to you?