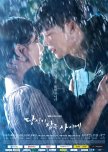 Although i have seen a lot of dramas already, it is the first review i am writting, because i have to express how much i love this drama.
I think just the first episode leaves a good preview of what the entire drama is going to be like. The whole concept of dreaming about the future was represented perfectly in this drama: in my opinion, how the scriptwriters, wrote it to be this perfect is completely amazing, the flashbacks and waking up scenes are well-placed between the main timeline.
All the actors did an amazing job too! I loved each one of them, even the supporting roles (not the bad ones though, but it is a proof that the actors played so well, it made me dislike them to a point where i could basically scream insults in front of my screen).
I loved the OST too, all of them coming at the right moment to connect emotionnally the watcher with the scene. It's You by Henry being my favourite, i even dowloaded it.
The rewatch value is also good, i will definitely rewatch it later!
Don't hesitate about watching it, it is worth the hype!
Was this review helpful to you?