The website is currently undergoing maintenance. Sorry for the inconvenience.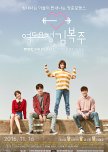 I needed a drama like this and I didn't even know it. I am so pleased with everything. The plot is really unique compared to other dramas. As a college student it was so fun to see that atmosphere and environment in the drama; I could relate. The love story of Bok Joo and Joon Hyeong was everything to me. Their relationship is so realistic unlike many in other dramas. They started as friends and then fell in love. They are truly relationship goals. This drama just gave so many feelings. I completely recommended. It is a must. It is a pity that the ratings were bad in Korea because this drama really deserves attention.
Was this review helpful to you?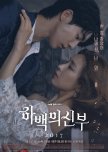 I had to drop this drama, unfortunately. I was so excited when I first heard the plot, fantasy is my favorite genre and it seemed to interesting, just like Goblin. Even though I dropped it, I think the story/plot had a lot of potential but the writers just could not do it. The scenes are boring and predictable. The fantasy in this is very minimal. A problem with the cast is that the acting skills are not on the level that the fantasy genre requieres. I think is character was too much for Nam Joo Hyuk but I think he has a lot potential. He just needs to sharpen his acting skills. The drama lacks those iconic songs that make scenes special that the audience loves. I'm really disappointed with this drama since I had big expectations.
Was this review helpful to you?