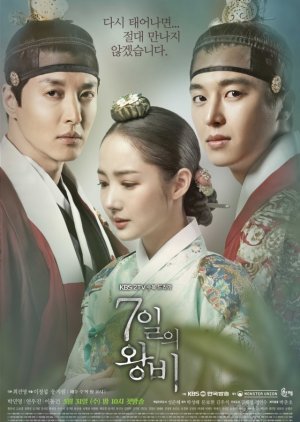 I reluctantly fell completely in love with this drama, even though I knew it would break my heart. When a Sageuk is done right it can take me on an emotional roller coaster, and this one did exactly that. On the surface it's everything I expect from an epic historical drama... family rivalries, betrayals and revenge, blinding greed, tragic martyrs, obsessive love, a star-crossed romance... Yet, It also holds it's own among two of my absolute favorite Ancient Joseon Sageuks (The Princess' man, and Empress Ki). Although there are similarities that fans of those dramas can appreciate, I think this drama still stands out on it's own because of it's memorable characters, and touching story.

First, It's not a spoiler to say that this is indeed a Romance-Tragedy. It is inspired by the true story of Queen Dangyeong, who we know from the title, was only Queen for a week. If the title isn't enough to clue you in on what's in store, the show starts by glimpsing into the future, and we see a not so happily ever after moment where she tries to kill her love, the king, but can't. This was the same flash forward method that grabbed my attention in Empress Ki, and I knew that I would need to know exactly what road led them there. That road is not just filled with tragic moments. We actually go all the way back to childhood with the characters, and the journey to the end is more than just tears. There's humor, great friendships, some action, and of course romance, and what I thought was an interesting story of 3 people who's lives are controlled by their fate, in spite of their feelings.

I think Yeon Woo Jin was amazing as future king Yi Yeok. I've liked him in other dramas, but this one is a perfect vehicle for his range. He's matched with Park Min Young as Shin Chae Kyung, who I can say the same about. I think, because their child versions were so good, it gave them a lot to work with as far as backstory, and I truly believed all of their moments together. They may not have the most exciting chemistry, but that didn't stop me from liking them as a couple. The triangle is then made complete by Lee Dong Gun as Yi Yoong. I think his character, and acting, drives this whole drama. He also reminded me A LOT of a young Christopher Walken, and not just because of his big eyes. He has a charm and creepiness about him that made him the kind of villain I not only sympathized with, but sometimes rooted for in spite of myself. Even in his most over the top moments I totally felt for him. I really am a sucker for an actor who's really good at playing evil or crazy or both.

Most of the story revolves around the rivalry between these two brother for the crown, and their love of the same girl, but it still didn't feel too cliché to me. I think it's because every single character in this story, meaning every single supporting character, are so developed and well played, that it gave extra depth to the story and made me care about everyone... EVERYONE... even the Nanny. I would usually give a shout out to awesome supporting characters but there are just too many to name! I also loved that most characters, even if they were minor, had some kind of attention given to their specific part in the story, and some very emotional endings for their characters.

Ok, I will mention just one... Hwang Chan Sung as Seo Noh. *insert my standing ovation here*

As for the story, for me it just kept getting more exciting and addictive as the show progressed. The moments that may have felt slower were more of a build up to more exciting parts. Waiting for new episodes started to feel a little like torture, but sometimes I needed that week to breathe between episodes because the story got so intense. Sometimes characters were frustrating, but I think that's what added to them feeling human. Sometimes the political storyline was upsetting, but because it tied directly to these amazing characters, it kept my interest till the very end. The ending had a lot to live up to, and I think it was well done. I suffered from severe eye rain during the second half of the last episode, but the ending avoided just being completely depressing, which I think is impressive.

The music is beautiful and compliments this drama very well, and Junggigo's song will be on mental loop for a while.

Would I watch it again? Absolutely. I would probably need to watch a few light hearted shows in a row first, but sometimes you need a story that gets you in the feels too. I would just stock pile some tissues.

Overall I would definitely recommend this, BUT if you are not a fan of extreme drama then this may be too much. If you have never liked a sageuk ever, know this is more of the same, so don't expect this one to convert you. If you don't like stubborn characters who make you want to throw things at your screen, you definitely picked the wrong drama. Personally, I think it was beautifully bittersweet, and I I already added it to my favorites list before I even finished it.
Was this review helpful to you?