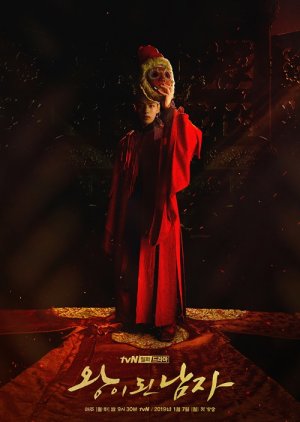 "The Crowned Clown" is a great historical drama in so many ways. Don't think of it as just a Korean version of "The Prince and the Pauper". It has an excellent cast, an intriguing story, and is visually beautiful, but this is the kind of sageuk that I think you have to be in the mood for, and for me, the slow deliberate pace made me a little less excited as a viewer. However, Yeo Jin Goo is so good in the title role that I had to keep watching no matter what.

I do think everyone in the cast was excellent, with no weak links, but Yeo Jin Goo is exceptional playing a completely convincing dual role as a King in the middle of a mental breakdown, and a clever clown forced to serve as his double. The fact that he is only 21 is amazing to me, and clearly means he has an awesome acting future ahead of him. The fish out of water/imposter storyline is pretty overdone, but this story is told with so much depth that it feels original and even plausible. His performance alone is enough to make me recommend this drama.

Although Lee Se Young is great as his love interest, and they have some sweet romantic moments, the relationships that interested me more were between Ha Seon and the Royal Secretary, Guard, and Eunich, and the host of villainous rivals within the royal court. Maybe it's because the character of Queen Yoo So Woon was so stoic that their romance felt more understated than exciting. Watching how Ha Seon faced the challenges of his dual life is what held my interest when the pace started to feel slow. A few characters are incredibly frustrating to watch like Ha Seon's sister, The Queen Dowager, and The Left State Councilor, and this also helped to keep the story exciting, and even had me wanting to yell at the screen more than once. The cast helped to make every aspect of the story feel authentic no matter what.

When it comes to the plot I am torn. I think it really was well written from beginning to end, but it still felt like it dragged in some moments. Even though the plot itself stayed interesting, with a few unexpected twists, this drama seemed to linger on certain moments for too long making me almost want to fast forward through some of it. This is the part where I admit that I may have just not been in the mood to watch this style of drama. Instead of enjoying watching the story slowly unfold I felt myself getting impatient while watching several times. That's also why my rewatch score is pretty low. Now that I know what happens it would be hard to watch this again without wanting to skip a lot of it. I'm a fan of this director's other dramas ("Money Flower", "Fated to Love You"), and I loved the way this drama looked, so I suspect that maybe the writers are more to blame when it comes to the overall pacing, including some longwinded dialogue at times too. Still, once I started rooting for Ha Seon, I knew I had to keep watching till the very end.

Overall fans of historical dramas should definitely watch "The Crowned Clown". Even though I shockingly didn't cry once, this is definitely a drama that may evoke emotions. Those looking for fast-paced action, romance with a lot of chemistry, or hilarious comedy should probably save this on their MDL queque for another time, but there's still enough action, romance, and comedy to make the story feel balanced, and not just non stop political betrayals and revenge. I'm personally glad I watched it, even if it didn't quite fit my current mood, and I definitely felt satisfied by the ending. What was good about this drama outweighed what could have been better. I'm certainly now a fan of grown-up Yeo Jin Goo for sure! I guess it takes a good actor to play a good actor.
Was this review helpful to you?