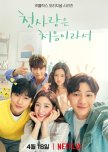 I thoroughly enjoyed this drama, and I can barely wait for Season 2 to come out on Netflix soon. Honestly, I wish there were more than just the 8 episodes released so far, because the acting is so good and while the story is not overly complex, it is super relatable in many aspects.
While still throwing in some cheesy, cute moments here and there as is required by the kdrama romance genre, I never felt like they were overdone. There was just the right amount of comedy to keep the show lighthearted, but it was not without some very relatable struggles that normal people often go through regarding family, relationships, finances, etc. My First First Love is definitely targeted toward a young adult audience, particularly those in college or just entering into the workforce. The interactions and chemistry between the various characters is so natural that I often found myself forgetting I was watching a tv show.
I highly recommend this short drama for anyone craving a simple but beautifully woven story about friendship and love, with talented and good-looking actors!
Was this review helpful to you?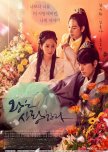 I had set aside this drama for nearly two years and I'm glad I finally came back to finish it. Although there were many points throughout the drama where I was overly frustrated by interactions between key characters and bad decisions that were made, I ended up being content with the way things turned out in the end. Apparently a lot of people hated the ending, and I might have been in the same boat had I not done my own research and learned the true historical events surrounding Siwan's character, Wang Won. The drama stayed true to many real historical events, and because of this I understand why the writer's had things play out in particular ways that broke the k-drama formula and upset many viewers that wanted a typical happily ever after. I, for one, was very excited to have finally found a drama that isn't predictable and kept me on my toes throughout the whole 20 episodes. The pacing was good, and I only wish they had flushed out the relationships between some of the other supporting characters a bit better. After finishing the drama, I am left with sadness for the sacrifices that the characters had to constantly make, as well as a fondness for the true love that was portrayed by the actors. I highly recommend this drama to anyone yearning for a fast-paced romance/thriller that takes place during a particularly turbulent era in Korean history.
Was this review helpful to you?