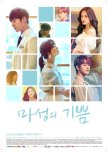 This is one of the clearest, cutest dramas I've seen this year. And it's already October :)
I guess you can say that I'm thrilled and charmed by the simplicity of the drama. There isn't much new to the plot, in general, but you see a lot of freshness in how they approach the subject. Either Jin Hyuk found a drama that appears to ideally fit to his own character, or they changed it a bit to fit him, because he is superb in it.
Jin Hyuk has an ability to play characters, that seems simple and lighthearted, at the same time, being incredibly deep and sophisticated. I think this is the main charm in this drama. He plays his role perfectly and at the same time gives depth to the plot, writers have given him to play.
I do believe that either people see this drama and can't get enough of it, or they will dismiss it for being too simple and easy. But at a closer look, you love it more than (almost) any other.
Also have to give production crew a thumbs up. The choice of actors is pretty darn good and as I am usually pretty negative in my reviews about female leads, which usually appears in me not posting about them at all.. :) But this time I have to say.. I'm impressed.
Ha Yoon is at her strongest in here. In 'Fight for my way', she made an impression as a great actress, who could really play a part I'd enjoy, in an emotional drama. I was right, she's perfect for this, in this. She makes me smile and she frustrates me.. and she makes me feel her emotions, and relate to her life..
Everyone, the writers, producers, the actors. Have done a great job on this project(will do). Can't wait to watch it until to the end. Hope to feel surprised a bit, but whichever way the plot goes, I'm sure I'm gonna love it until it ends.
(BTW) Not sure about this remark.. But I really do like Hoya only, when he's dancing.. I've seen some, or a lot of his acting. But somehow.. his character, wherever he plays.. has not gotten a lot of recognition from me. He plays well, but I don't like him as an actor. As a dancer, sure.. I could watch him for a long time :D
Was this review helpful to you?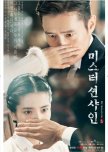 This review may contain spoilers
This is a drama I will watch countless times. Absolutely sure about it.
I'm completely satisfied with the male lead's charming, exquisite performance. If he did not already have an fairly decent ability in English language, then he sure learned it quite perfectly for this drama.
The way Choi Yoo Jin mesmerized me with his manners, his looks, his perfect devotion to the female lead. I think it's one of the best performances from a male actor I've seen in Korean dramas. Any woman would love him, any King would honor him. And surely anyone would want to be defended and protected by him.
I haven't seen Kim Tae Ri play in dramas. It surely is something to regret, I'll fix that mistake quickly.
She plays with this fervent fire and dedication, that you might see in other actors, but at first notice, I can't think, who would fit more perfectly into this role. The gentle yet unbending nature of the role is perfectly acted out by this female lead. When I looked her play Go Ae Sin's role out, it made me want to be her. The courage emerging from fear and doubt, with such victorious indignation. It takes me a step farther, to look at women of that society more closely and to ardently admire of the nature of women in all the times of the world.
Not as a feminist, but just as a fair judge of character, I wonder, how many people with this kind of nature have there ever been in this world and will there ever be...
Also I would like to point out that, when in a hurry to get to the plot's important moments and as usually a person with busy life, there was not a moment in this drama, that I had the heart to skip. Everything fitted so perfectly. There was not a moment that would have left a question mark, as why would they add this or that scene here/there. And this is one of the most important points of any drama. How well does the story flow and how much does it make you want to skip to the important parts. This, for me, had not a second of it.
Also, one extremely important point. The side characters, everyone was important for the story. They added coulor's to the story, that will make it possible to remember them as much as the male/female lead.
Not just the lead actors, but also every other actor was perfect for their position in this drama.
Hope you like the review :) This is just how I feel :)
#BTW! Music is over the top. You can just drown into the emotions and the deep feelings in the drama's OST!
Was this review helpful to you?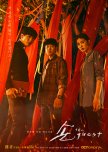 This review may contain spoilers
Well I have to tell something, that people usually add to the end of the review, or whenever, they think of it, but I want to tell it first.
The music. I haven't gotten yet to identifying all the songs and finding their words, but whatever they say, they were perfect. I loved from the first episode every gruesome, every sad, hard, depressing, weird scene. Every one of them, was influenced and perfectly played out within the accompanying song. I never felt like music starts at the wrong time, or that it somehow creates a rift between the scene at hand and the melodies of the song, or the lyrics. I absolutely adore the soundtrack of this drama.
Really good actors and unknown, awesome actors. This is a pretty awesome thing. To create a criminal or mystery drama, also hospital dramas. Lot's of short-term(my term for this) actors flitter through the drama. Who haven't got a lot, or almost no screen time at all. And these days they seem more appreciated and they are given more things to say, to make an impact on the viewer, so more often then not, we remember these characters. I loved this drama, because the plot and obviously the way it was written, gave these short-term actors a chance to show their ability to act. And I think they made a chance for themselves as scary actors :D Well really. Sometimes I think it's a lot harder to play an ugly and unattractive, violent, screaming your lungs off character, rather than a smiling, coffee drinking, book reading person in a coffee shop. So I loved all of those side characters. They cold even surprise me, scare me a bit, and really sometimes.. break my heart. I hope great future for any of those actors.
Then the plot. Let's give screenwriter an applause. I was not surprised all the time. You don't have to write a screenplay, that has such twists, that I haven's ever seen, heard.. to surprise me. The screenplay is either good or bad. It more often than not, depends how smooth the story flows. Just like when you read a book. It you stumble at every freaking step, then it's a bad book. And this was an awesome drama. I was satisfied with every part of it.
The starting made me want to see more. The continuing, from one episode to another, made me interested. The connections between main characters, were touching, and also logical. Why they, why here..
And the evil. Not just one bad, but the evil, the anger, the frustration inside people themselves, which cave the permission to enter. Which called for that. It made sense. I liked how it was played out.
And the ending. The not sad end, which seemed perfectly logical and I did prepare for it. It felt also right. But the gently smile in the end, the quiet joy of together again.. It made me happy too. So I do think, the screenwriter, did a perfect job.
I'm so happy, that they didn't create a love triangle. First, though fun and interesting, they are somewhat... in almost every Korean drama you see. And when I see them, I always enjoy. But it's good to discover a drama that does not have one of those, or for that matter, no love line at all. Which.. is also good. Though not as hoped for, but I was satisfied, because of the tempo of the drama, it ran so fast and so interestingly, that I didn't see a reason for it.
Now the main three. The actors. They probably could have chosen a better three. But after saying this. I will say, that I don't want anyone else there. Why should I. There are not many actors with such eyes as Kim Dong Wook. At times they really seemed like the saddest, the one who had the hardest life, the one who knows it all, the one who was possessed... I absolutely love that actor now. No joyous adoring. But in skills of playing a part. This was over the top good.
Now Jung Eun Chae, was primarily interesting for me at first, because she didn't smile. Now don't get me wrong. I did think she acted great, but she was interesting for me, because I liked her frowning, and so serious and angry all the time. Her unbelieving, her hard fighting for known logic and not trusting the concept of possessions and evil as such that were shown to her. But then she made herself softer.. She had a lot of hurt, she had some small smiles and she worried, for others. I loved the almost concealed really strong affection she felt for her partner, and the two guys. She was like the bond in this triangle, though I do want to put that pressure on Hwa Pyung, but I'm not totally convinced I can.
Well, we can not leave out Kim Jae Wook. He was the only of the main three I had the pleasure to have seen before. I did already love his acting skills. I do have to say.. I was confused for a little while. I could not find the satisfying affection for him, from the first sighting.. but it came. pretty quickly. He was more confusing character than Kil Yeong. Because I could not read his emotions. I saw his anger, and resentment, but I couldn't understand, why was it all concealed under such hard face. It felt weird. It made sense soon and that what made me appreciate the role he had been given. To play hard roles, is something I do value. I think you have to see actor play both sides, on different angles to know if their really good. (That's why everyone loves Meryl Streep, what character hasn't she yet played) So playing Choi Yoon, gave me a totally new experience to see him on screen. He was like a beat up child, on a street, that does not trust anyone and anything. And then he starts to trust someone, and then he discovers that he is deceived, and now he has to trust another(s). That's immensely difficult task to do.
I think the three actors, were in a way given roles, that made it immediate, that if they acted them out wrongly, it would have screamed at everyone watching the drama. And they did such great job with all of those characters, that I think it's hard not to want to watch the drama, if your in anyway in love with something thrilling and mystical and try out the first one.. maybe two episodes, then I think most people will continue.
I did love it. A lot.
Interesting watching everyone!!!
Was this review helpful to you?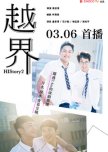 This is probably one of the easisest History 2 serie's short drama, to watch.
The plot isn't difficult and is easy to follow, though at first you do might want to kick the scenarist, for making it a bit of a suspense to wait for the romance parts. But because it's so easy in the plot development and the seeds of main pair's romantic involvement come on with not too much trouble, and enough for viewer to squirm behind the screen a little, I can pardon the scenarist. Waiting for the next ep is quite suspensful, that's why I can say that the scenarists made the plot pretty well and producers and actors did justice on bringing it on the screen. By the way, I do have to give justice to the actors. Their easy accountanance on the screen with each other made the plot so much more enjoyable. I really like their chemestry. The plot romance was a little underrated, but still, better that, than being sleezy or worse, played by an awkward actors
Usually, honestly liking good BL drama, but really harsh in giving praises, then this got some high points from me.
I would say that History short dramas:
The suspense sequence for me:
History 2
1. HIStory2: Right or Wrong
2. HIStory2: Boundary Crossing
History
1. HIStory: Obsessed
2. HIStory: Stay Away From Me
3. HIStory: My Hero
Was this review helpful to you?