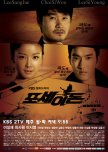 Poseidon
17 people found this review helpful
I would have loved to give this show a higher score, but there were just too many things that got on my nerves far too often! Choi Siwon is my favorite Korean celebrity, so he's the only reason I decided to watch the show. But there were many times I had to stop and take a break. It took me months to watch it all. Sometimes it was because things had just slowed down too much.
But mostly it was because of Lee Siyoung's character. I don't think I've ever seen such a pathetic, stupid and aggravating female lead - especially in an action drama. I remember stopping the media player on many occasions just completely overwhelmed with how annoying that character was. I mean, usually in action dramas I've seen (like Iris...which might be why I was so dissatisfied) the female lead has some spunk and is actually intelligent. But this character was so weak and just kept making absolutely idiotic decisions which could never have been made in a real life situation. I enjoy the fantasy of dramas and can take a sufficient amount of ludicrous scripting knowing it's not real. But this character would NEVER EVER exist in a real criminal investigation. Granted it was the script that did that, but Lee Siyoung comes off as a weak actress to me as well. I will avoid anything she does in the future because of this performance. She's the reason why I can't give a higher acting and overall score because that character just left a sour taste in my mouth after every single episode.
The plot was not too bad. The story was very different from what I've seen in the past. In fact, there were some really nice twists at the end too. There are also a lot of deep emotions in the story, which are expressed well enough by the actors. On a few occasions the acting was quite superb. I do recommend the show to anyone who wants to watch Choi Siwon's development as a actor; he was quite good in a number of scenes. Most of the actors were pretty good actually. Recognizing the comic relief characters early on helped me to be less judgmental of their odd performances and to enjoy them for what they were. A lot of the older male actors were quite good, especially the villains.
The timing and directing at times was unbearable. Especially in the lagging middle of the show and the last 30 minutes of the finale. A number of plot points and characters were never given the attention they deserved, or introduced just to be summarily forgotten about or never resolved in the end. But it's K-Drama, so a certain amount of that is to be expected.
There were some very memorable songs in the show though. Super Junior's Kyuhyun sings a great ballad. During the sappy "love" scenes, his voice got me through it! :)
I'd never rewatch this drama. And I'd only recommend it to die-hard K-Drama Action lovers (for the plot's uniqueness and for the quality of the villains) or for anyone who wants to really trace Choi Siwon's acting. Oh My Lady! wasn't so good...But I'm happy to say that after watching Poseidon, you can see he's got some real acting talent somewhere in him. When that talent came out on occasion, it was really surprising and enjoyable to watch.
So watch it if you planned to...but don't be too surprised when it really sucks for a while at least once an episode.
Then again, if you're a more forgiving person (especially when it comes to disappointing and annoying female leads), you'd probably quite like Poseidon!
Was this review helpful to you?