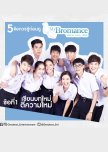 I think the biggest problem with this series is that it'll forever be compared to the movie. Don't do what I did and watch the movie then jump right into this series. If you've seen the movie, wait at least a couple of months before starting the series to give yourself a chance to forget most of it. Or better yet, watch the series first.
There's simply no comparison. The movie is just a better overall production, even counting the fact that movies tend to have a higher budget. It's best to think of them as being in two different universes-having similar characters, a similar setup, but completely different characterizations, different plot, different tone, different extrapolation. I suspect that a lot of people rate the series higher because it ends happily, where the movie is tragic. As a gay man, I totally understand the bias against LGBT movies with tragic endings; there's simply too many of them. But still, the movie's better.
But I'm not dismissing this series. The series comes into it's own about halfway when it spends time with new characters and explores themes of it's own.
Overall, you won't regret watching it. I wish I had time for a rewatch as my own comparisons to the movie spoiled the beginning for me. Looking forward to Season 2 instead!
Was this review helpful to you?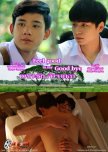 I'm going out on a limb here and claim that this gem-in-the-rough is NOT your standard BL film.
1) One of the main couple characters is actually gay. None of this typical BL bullshit trope of "I'm not gay, I just love [name]!" as seen in Love Sick, 2 Moons, Make It Right, etc, etc. It's bullshit because that's not how male-on-male romance works. That scene where Chai first moves in, is in the bathroom, smells Aek's soap, and starts fantasizing? That's probably the most realistic scene I've seen in any BL.
Of course, another bullshit trope in every film/series, not just BL, is that it can't end with the gay character being happy. Same here.
2) This film is epic, simply put. At just over 2 hours, there are many word-less, almost mundane, almost plot-less scenes of exposition. The main couple interacting with their friends at a waterpark, the main couple having noodles at a road-side stand, each of the main couple winning trophies separately in their respective sports, each of the main couple in the shower (Those actors are actually in pretty good shape! Worth a rewatch just for those scenes!) These expositions, at times, seem to drag the film. But at the end of it all, you realize you've traveled their journey with them. Seen what they've seen; lived their love with them.  One gets a better sense of the joy of their love, and the anguish of their loss.
There seems to have been little-to-no money or time spent on post-production on this film. Many BL releases are guilty of this, but this one is especially guilty. I suspect part of the soundtrack may have had to have been silenced due to something like international copyright clearances. Don't let that distract you. The story more than makes up for it. Decent script, very good acting.
Was this review helpful to you?