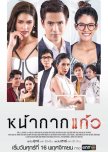 This review may contain spoilers
one of the best thai drama I've ever watched . At first the synopsis feels like the story will be a batch of clichés but the reality is soo much better with:
1- a smart ML who never act reclessely nor does he juge by hear say. he's methodical and always invistigate things first then make decisions. If there is a problem he consults with his father ( by the way they form such a good tendem........so cute) and BEST os all he never misunderstood the FL as an imposter who did switch place with the real one for fun/money/ .ect.
2- the FL : the best thing about her is her frankness: she's always so trusting of the ML (may be because of her amnesea) and always speaks what's on her mind no matter if it's troubles, suspision, dubts (about other people or their relationship) or confessing her little lies witch greatly helps clear things bettween them.
R!!! I'he found comments on how the ML kept the secret of her identity but not telling her or her family and he resumed being intimate with her even thought knowing she has a boyfreind!!......But I think he was right : for her security it was best to invistigate , find proofs then confront the culprits. as for their relationship: it's not like he forced her or anything they just liked eatch other slowly knowing and discovering then deepening their feelings, he was always considerate of her and delayed the wedding waiting for her to recovert her memory and marring her under her real name.
3- there are differents kind of villains : there are ones who lacked love and care so turning spoiled and mean, there is the greedy stepmother , there is a corrupted politicien but with botom line and there is the eternal cruel and psyco ones.
4- surprisingly there is NO slap/kiss and NO RAPE ( it's a miracle)
5- the second leads and other caracters arn't there just to fil in the screen time but they do have their purpose and role in the story.
6- ML is a possessive and a dominering type but FL is quite passive and accomodating one so there was no clach on this point (FL find his possessiveness as proof of his love so she was quite happy ... any way she is also a jalouse one!!! a perfect match !!!!)
7- the 23 episodes are just fine without being dragy nor was it rushed ! but I find all that killing a little too much .....but well it's lakorn I'm just used to it !!
so over all IT'S A MUST WATCH !!!! you won't regret it!!!!!
Was this review helpful to you?