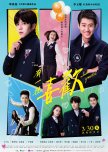 I liked this movie, even though I didn't understand what was going on most of the time.
I was able to find it online and watch it after looking up the name in Chinese.
Do take note that I watched this a while ago and my description might not be 100% accurate.
From what I remember, there are two main couples, one being Dino Lee and some other girl (His ex maybe? Don't remember) , and Bii and some girl.
But, after many interactions, the quiet, shy FL wins Dino Lee's heart.
I do not remember what happens in the end, but I did enjoy the movie. Watch it if you'd like.
Was this review helpful to you?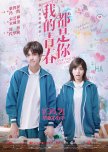 I loved the story and the actors, but MY GOD this kind of story would be so SOOOO much better as a drama. Everything felt so rushed. I could barely enjoy the cuteness because of how fast it was moving. I hope someone adapts this story into a drama soon because it would be so much better
Overall though, I like the story. You don't see male leads being the one pursuing the girl very often, so I appreciated that part.
I also loved Vivian Sung from Our Times, and was glad to see her on the screen again. I definitely want to see more from the male lead though.
Was this review helpful to you?