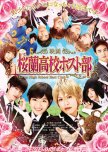 If you enjoyed the TV series you will LOVE this movie that is still not subbed. During my stay in Japan I had the opportunity to watch it. Lets just say that the actors portray their characters perfectly, the only character I seem to enjoy the least is Hani, But I have never been a fan of the cutesey type and portraying the massive eyes tiny body thing in reality is a little hard.
The soundtrack was nice and I am planning on buying it from Amazon.jp as soon as I can,
Costumes once again were superb but I didn;t like the small changes they made to tamakis. I think that is because I had gotten so sued to how he was in the series.
I will not spoil anything but I will say that if you are after a few laughs, watching Tamaki be dramatic, the twins being devilish and other such events which you'd expect from the show, watch it ASAP!
Will rewatch this as soon as I can :D
Was this review helpful to you?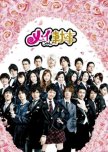 When I watched this series it started off great, but it didnt seem to liken to the manga as much as I would of hoped.
Although the two main actors had chemistry I always felt as if something were missing. The acting was just above average overall and it seemed I enjoyed the music the most of everything.
I also felt like the show ended abruptly without any real conclusion to the couples continuation. It was disappointing that it ended as it did, I feel another 2-6 episodes would of made it much better.
Was this review helpful to you?
Overall I would leave this show with a 9. Compared to the first GTO drama that has been made I much prefer the careless thug style that Onizuka in this show represents. It follows the manga well and the soundtrack seems near perfect for his heroic yet idiotic take on teaching.
For those who know nothing of GTO, GTO is about a thug like man who never completed any further education. He originally wishes to be a school teacher to pick up girls as he notices a man who has a high school lover. He is what most Japanese people would call a Yankee and has a very unique style in teaching his students lessons.
It is also nice to see Yusuke Yamamoto as another comedic role, you will spot him straight away if you were an Ouran fan! (same with Haruna Kawaguchi, its obvious who she plays).
If you want something to make you laugh, try here.
Was this review helpful to you?