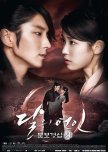 This was a drama I had heard about - or, rather, read about a lot - in the past, though at that point I really did not pay much attention to it so when I decided to watch Moon Lovers over a year later since it first came out it was on a whim (and completely blind, since I hadn't spoiled myself). I binge-watched this, by the way, in the span of 2 days and it did kill me, yes.
Cast/Acting
Beforehand I was a bit wary of this drama due to it's cast. Now, I don't judge actors and whatever kind of background they may have, but idols (or singers, for that matter) who decide to act are often either really lacking or turn out to be surprisingly talented. In this case I was extremely positively surprised by IU's acting skills!  I have never listened to her music or seen any other film/series in which she stars in, so if I hadn't known before that she was a singer I would definitely have mistaken her as a pure actress! Besides her I also genuinely loved the entire cast in this drama! The acting was superb on everyone's part and all of the characters they portrayed were just so so great and insteresting. I honestly felt like I was part of the world, which really doesn't happen that often.
Story
Story-wise this drama was a whole rollercoaster of feelings. In the beginning I thought, oh alright it's picking up the pace here we go, and then, yes, this is good! and then came the point were I believed we would get the ultimate happy end .. and suddenly the entire drama pulled a 90° turn. It made me happy, sad, giggle around due to all of the sweet scenes and cry like a baby throughout the entire 80% of the series.  Personally I'd say if someone likes romance and tragedy than this is quite a nice watch, even though there are some reeeeeeeealllly tiny moments of comedy too, though those were really nice rays of sunshine in between all of the more sad and heavy scenes.
OST
Now, the most important thing of this drama for me was it's OST. I have to admit that I often don't even pay attention to the music playing in the background of certain scenes mostly because it's just ... lacking something. But here everytime the soundtrack came on, especially - that- song (you know which if you have watched the drama) my heart stopped, because I knew  1) I'd probably start to cry again and the scene that would come on would be really impactful. While as a whole I loved the drama I still think that this soundtrack has made a juwel into a diamond. I don't normally by OST's of any kind of media, may it be film, series or similar but for Moon Lover I will make an exception because I need this music in my life.
In the end I finished this drama within two days and while I started it not expecting much it turned into the most memorable 48hours of laughcrying  I had ever the joy of torturing myself with. The story, the characters and the world as a whole grew on me so much within this short time span and I'll probably be stuck thinking about this series for a while before I can start watching another drama again. I'll definitely rewatch this, and that probably more than only just one time.
Was this review helpful to you?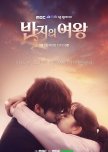 I watched this drama after finishing SPLASH SPLASH LOVE, which I really liked but thought of as too short and the actors had made me really curious about their other works, so I stumbled upon Queen of the Ring and was pleasantly surprised to see not only one but two actors from SSL in this drama as the main characters.
- Cast/Acting
I genuinely like Kim Seulgi, most of all her acting, besides of the fact that she is really pretty and youthful looking, too. She did an amazing job in this drama, in my opinion, and I'm excited to watch more films and dramas with her in the cast. Ahn Hyosub surprised me with his great performances and I was the most curious about him due to his little screen time in SSL. I'll definitely check out more of him!
The side characters were few but all really amusing and played by great actors. Lee Taesun is definitely someone I'll keep my eye on. While only with little screen time I liked the parents the most as side characters!
- Story
Before watching and only reading the story summary of this drama I was a bit skeptical but it turned out that I fell completely in love with the story of this drama. Things one can maybe except with such a premise don't happen and positively surprised me, which made me like this drama even more. There was no character I didn't like and everyone had great development. The ending of this drama was very sweet and made me want to keep on watching, even though there would be no more.
This is a very heartwarming short drama worth watching.
Was this review helpful to you?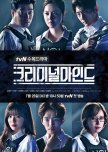 This is a very nice drama for in between and genuinely something I would watch after coming home from work  during dinner. The only problem is that it does lack quite some substance to it, making the whole series a bit dull.- Cast/Acting
I really loved the acting in this drama. Everyone did an fantastic job, especially the side characters' actors were truly amazing. On that note I would like to point out that all the child actors are true little pros! Their acting skills were wonderful to watch. While I loved the acting so much in this I think some of the actors' talents were a bit wasted on the characters they played. - Story
The idea is quite simple with there being one case per episode which also spans out to the following episode. There is no true plot and if you believe we dive a bit more into - for instance - the happenings of episode 1, then the following episodes will disappoint. Certain characters have some kind of sub-plot but the main focus lies on the cases the team works on. In general I felt disconnected with the entire series and wished there would have been at least one single theme popping up once and again that would push for more character development and give the watcher some sense of anticipation or suspense.Something else that bothered me quite a lot throughout the whole drama was the extensive usage of the word profiling. As a whole the script's dialog was somewhat weird during the first few episodes, in my opinion.- OST
There is almost no OST in this drama - I'm talking about "songs" rather than instrumental background noise - which was a bit disappointing, but I liked the occasional soundtrack popping up here and there. I wish they had played it more frequently!All in all if you need something to watch in between some heart shattering dramas or if you like to chill out to some Criminal Minds in the morning during your breakfast then it surely will fulfill its duty without space for criticism. If you look for something that will make you feel like you fell through your screen and into the story and the drama itself then this is not really the right thing you are searching for, I believe.
Was this review helpful to you?