The website is currently undergoing maintenance. Sorry for the inconvenience.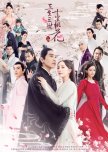 I normally refrain from watching shows that are super popular when they're airing. Why? Cause I'll get swept up with all the reviews and comments on how great/perfect the show is…only to realize that it's full of loop-holes and everything is mediocre at best. Maybe the love from everyone else makes me a harsher critic of the show, but because of this habit(?) of mine I tend to watch popular shows half a year (or longer) after its done airing. When all the hype has shimmered down and I can watch peacefully (aka less like a grumpy grandma). However, I broke my rule with this drama. Eternal Love/Three Lives Three Worlds was a beautifully made drama that can certainly live up to its popularity, but only if you're into a slow-paced romance.
Overall:
There are definitely some areas that were frustrating to me, areas that could've been further developed (or undeveloped LOL), and things that I wished were different. The romance between the main couple was detailed and you can feel how in love they were (mainly Ye Hua). However, because of how detailed the main characters were we only got a taste of all the supporting roles and their stories. This is probably the only 'downfall' of the show for me. Only because I wished there were more to other supporting roles. I actually wish this drama is longer just so I can see what happens to everyone. I would not recommend this drama if you're looking for something fast paced. This drama is something that slowly builds over the span of 58 episodes.
Story:
Like most Chinese dramas this is based off a novel. The novel is by Tangqi Gongzi and for the most part I heard that the drama is incredibly like the novel besides the relationship between Bai Feng Jiu and Donghua Dijun. Which can be found in a spin-off novel titled Pillow Book. There are a lot of copyright/plagiarism allegations on the Three Lives Three Worlds novel. I'm not going to go in depth about them, but I'm pretty sure you can easily find articles on it. To whoever credit is deserved, the plot is beautifully written and I loved most of it. There are a couple of reasons as to why I got frustrated, but they mainly dealt with character development rather than the plot itself. For example, Li Jing went from being a rebellious prince with so much personality to a mopey king focused only on past mistakes. Besides this, I actually found myself wanting more and more. Mainly Yan Zhi and Zi Lan though…I loved them so much. Someone please write a fanfic for them. I'd read it.
Acting/Cast:
I actually started this drama because of an interview I saw of Mark Chao. I know everyone was hesitant on staring this because Mark wasn't your conventional pretty boy and was comparing him to Yang Yang (actor who'll play Marks role in the movie), but there was something so genuine about him in his interview that I started the drama right away. Mark brilliantly portrayed the role of Ye Hua! For the most part his character was stoic, but when he showed emotions…I felt shivers. From the way he looked at Bai Qian, the way he softly smiled, the way his eyebrows furrows, or his breakdown from sadness/grief…he basically threw my emotions and heart in a frenzy. I can go on for days as to why I love Mark Chaos acting, but I'll stop. Needless to say, I'm super excited to see his future works.
I have never seen a drama with Yang Mi before (I've only heard of her cause she married a HK born actor), but I loved her portray of Si Yin, Su Su, and Bai Qian. She went from being an aloof and mischievous disciple to being kind hearted and easily manipulated human and finally to being a well-respected and classy queen. There was something about her that never changed when she portrayed these different characters and that made it more convincing that they were all the same person, but different lives. Kudos to her! Though I do believe she does better with her mischievous scenes over her emotional ones.
The rest of the cast was great! I don't want to delve into each character since there are a ton of supporting roles, but I loved them all. I think everyone did incredibly well on their portrayals whether they were to be liked or hated. I also want to make a shout out to the voice actors. I think they did incredibly well in bringing emotions out.
Music:
The soundtrack has been on repeat for days.
Rewatch Value:
At the moment no, but maybe in the future.
Was this review helpful to you?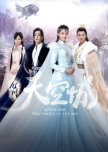 I want to note that I started watching this drama because of the reviews others made, but as you can tell from my rating...I wasn't a huge fan of this drama and I still don't really understand what was so special about it.
Story: Two clans of humans fighting for supremacy and the technology/secret to flight? The reincarnation of a goddess who wants to reunite with her lover, but is fated to separate from him in each life? The plot had everything to be well embellished upon. However, its mainly just a poorly executed "tragic" love story masked with the theme of two clans of humans fighting each other. The conflict between the human clans was pushed aside so the love between the two main characters could develop. Which is fine since it tends to happen to most dramas that incorporate romance, but the love between the main characters was unbelievable. I can see how the main male fell in love with the main girl, but I felt like the female lead just woke up one morning and was like hey I love this guy.
Acting/Cast: Most of the cast was okay. I found that the older actors/actresses were better than the younger ones. Which is to be expected since the other actors might be new, but the female lead was just awful. She did a poor job at portraying the emotions she was supposed to give us viewers. She had 3 emotions and they all looked the same. Like all the other reviewers I felt that male leads acting was the only superb one. The actor did a great job at portraying his character and letting us see/feel the emotions he's going through. If I could give a rating for just the male actor it'd be 8.5 versus the low 6. As much as I enjoyed his acting I cant rate a whole series based on just his acting along. To be fair...the female lead would've gotten a 3...
Music: The intro and music within the show works, but the ending theme just kind of randomly slaps you in the face with TFBoys.
Rewatch Value: None. I barely made it through the first time and I doubt I will the second time.
Overall: The beginning of this drama was brilliant and promising. It was refreshing. The CGI wasn't laughable and the way they edit the scenes gave a whimsical aesthetic (like most fantasy/historical Chinese dramas). However, the way they implemented the romance and how unfinished the drama felt was subpar. You can tell a lot in 28 episodes (29 if you include the alternative happy ending), but because they focused on developing the romance between the two main characters you saw minimal plot on the conflict between the two clans (except for the first and last 5 episodes). The romance between the two main characters felt…nonexistent. The male lead falling for the female lead was more realistic than the female lead falling for him. All they did was bicker, then fall in love, and bicker again. It was a vicious cycle and she didn't make her love for him feel real. Maybe this is due to her poor acting. I was excepting more because of the other reviews, but this drama just didn't live up to my expectations.
Was this review helpful to you?