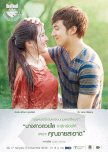 This is the first Thai drama I've ever watched. It was weird at first hearing their language as I'm used to Korean language, but then again I guess it's weird for everyone hearing other country's language. The acting is not good but I like the leads. The girl is really cute and her expressions were awkward but funny. Thesis is attractive as well and he acted better. Punpun is kinda cute too. I adored those three.
This Thai teen romance is pretty similar to Filipino teen romance. But Thai is a bit bold for tackling homosexuality for their young age. The kiss was awkward and conservative but the sexual preference is not. The plot was light and a bit entertaining to some level. I did get a few laughs from the scenes and I found some moments to be sweet. Compared to other teen romance I've watched like The Heirs, Boys over Flowers, and Meteor Garden, this Thai drama is simple and less melodramatic, not glamorous unlike Korean dramas, more relatable in the sense that their dialogue is light and they actually communicate their feelings and their situation. Korean characters dont have this kind of communication. I like that this is more realistic in a way that it's just simple. The way they portrayed their interaction and respect with each other seems more natural to me than how Koreans portray each other with such high respect. Korean culture is definitely more conservative but their romantic scenes have so much heart that even with just how the characters gaze at each other and with simple touch of holding hands gets me all giddy lol.
This drama is probably not enough to interest me in watching more Thai drama but I'll give it another shot with a different genre that has an interesting and complex plot. Overall I did like the series and 4 hours is enough. So if you're looking for something light, mindless, and non-stressful you should give it a try.
Was this review helpful to you?