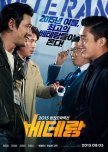 Veteran
11 people found this review helpful
Veteran was such a wild ride. It's a David and Goliath setup surrounded by great acting, great writing, and great characters that I felt really invested in. I watched this on a plane and got weird looks by the people sitting next to me when I sobbed and laughed at the same time.
Bottomline: A wild ride supplemented by stunning performances. I had an adrenaline high after I finished watching.
Acting: With a cast boasting names like Hwang Jung Min and Oh Dal Su it feels like you're watching real life play out in front of you. Yoo Ah In was a standout for me whose role I imagine wasn't an easy task since he was acting opposite Yoo Hae Jin. His performance as Cho Tae-Oh was spine-chilling but nuanced. He was a monster, but he had shades that were achingly human. It was a villainous role that made you angry at him but also for him and that's really a stunning feat.
Writing: I love adore crave stories like Veteran. Is it new or original? No. But the best thing about Veteran is that the script takes roles that have already been set and makes them human, makes them more. Everything is driven by them, their motivations, their desires. Hwang Jung Min could've played a good lawful cop who always does the right thing, but instead, the script throws that archetype right out the window in the stunning opening scene. They make him compelling: idealistic but realistic, someone who fights for what he believes in but in underhanded ways, a knight in rusty armor. Yoo Ah In could've played the spoiled son of a chaebol, an archetype we've seen a million times and then some. But here he plays someone so truly and deeply frightening that you think, this is what evil is. I read an interview where Director Ryu Seung-wan stated he wanted to look at the humans involved in this sort of story rather than the story itself. And the way he did is a beautiful thing to watch.
Was this review helpful to you?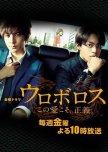 Overall: Ouroboros is one of those dramas that was so good but could have been so much more. The music, the cast, the directing were all top-notch but the story fell short for me.
Characters/Acting: Ryuzaki Ikuo was well written character and I loved the meta-dialogue the script had going about his moral ambiguity. Ikuta Toma really outdid himself in this role imo. And he shined in the role and that's not an easy task when you're supported by actors like Ueno Juri and Oguri Shun. Oguri Shun had Danno Tatsuya down so well, down to minute details like the way Danno wore his glasses and his enunciation. It was a beautiful, subtle performance that was a great foil to Ikuta Toma's Ryuzaki. Ueno Juri was lovely as a detective and she radiated resilience and strength, so much so that I forgot that she was Ueno Juri. The rest of the assorted crew of detectives and not detectives were wonderful (esp Chouno I need more Chouno) and I loved the interplay of relationships.
Story: I love the characters and the relationships which to me was the most important part of the story. I felt as a whole that Ouroboros was more of a character study and while it was driven by its plot, the characters and the way they reacted to the buildup of events and how their relationships were impacted was more important than the bare-bones plot. I did love the progression of how the story unfolded but I wasn't always happy with the resolutions.
Bottom LIne: Give me a whole show about Ryuzaki/Danno bromance for the love of god
Was this review helpful to you?