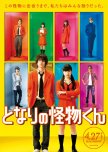 I watched this on the plane and surprisingly it was really good. The story follows closely to the manga but still it's a movie so they have to cut some scenes. Honestly for me, the highlight of the movie is definitely the chemistry between the lead. Suda Masaki did a very great job in portraying Haru you can't help but fall for him. It is a very good coming age movie focusing more on the friendship between the students. I really like how this is not your typical shojo movie where the guy is a jerk and the girl is naive, this one actually holds the message to just be yourself. For music they mostly use Nishino Kana's songs because if I'm not wrong it's kind of some collaboration project? Definitely a rewatch I can totally swoon over Haru forever and please stay until the credit end scene.
Was this review helpful to you?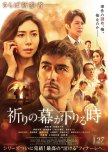 It's more than just a detective movie, in fact I would rather use the genre "human drama". It is so good and sad at the same time as it will always keep you guessing what will happen. If you are a fan of solving the crime saga this would be a good choice because it will not be easy to guess who is the criminal. The story can be confusing at times as they use a lot of flashback scenes. As this movie stars a lot of known actors and actress in Japan the acting is definitely a top notch. One advice; prepare a lot of tissues as you might really need it.
Was this review helpful to you?