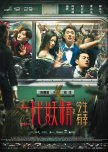 Story was ok - nothing too new, but it was presented in an entertaining and modern manner with a humour
Acting was good (while there are even more extraordinary that I have seen, but they are good, no complain there)
Music was catchy, uplifts the mood with a touch of humour when played with its actions in the movie
I liked the director's touch on how the story was played. This film has successfully earned "Romantic COMEDY" genre. While many comedy I watch just found it to be stupid and boring. I actually did laugh a few times with this one and it isn't stupid humour like running into a wall nor rude languages.
Overall, Its a humorous and fun to watch film, thus the title of this review. If you are looking for a light hearted movie with funny moments to pass time by, this can go on the list.
Was this review helpful to you?