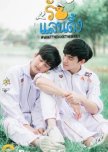 ---First of all i have to say i enjoyed this series more than other people might it's a 10 for me
so what the duck is divided into 2 couples and many pairing(interactions)
my favorite was oat and pop, both look about the same. they acted alright nothing special but i enjoyed their gazing and how fun their scenes were; for example at first oat was going in strong at pop but it was because he had no real "real" feelings but slowly he became very sweet and their chemistry is on point. i just in general kept on laughing at how stupid this two were... the bad stuff: Mo is a really good person great character but what the "d"uck is wrong with Pop and Oat she deserves more respect than she got. i understand why Oat was the way he was obviously jealous and those i had less trouble with because i found that funny. Also why would Mo stick stupid decisions all around.
Now for the couple that everyone loves :/
Ramboo and Pree both are really good actors man can rambo cry but this is also a complaint can this couple just hold their tears a little bit... their story is really unique and realistic in a way(not as in average but it can happen) i really enjoyed how it brought so many things into question i can't talk too much of it but trust me their is so many things that i would love to discuss. this is a toxic relationship people. i really hope they can do much more with them develop rambo more i really want to see him become better.
(a little more complains and stuff i find funny)
Okay so why it's a 10 for me. Oat is a genuinely funny, sweet and stupid character but smart at times when it's convenient. This reminds me of actual people which is super rare to find in dramas to be honest! (usually they are super perfect or stupid in a way too stupid way) but i mean he has so many faults and he rocks it he really really reminds me of most of my friends i could laugh at how stupid he was but also believe that he could think of plans that actually worked. (i fell in love with this character) and i just love how messy the process of making this show was. people leaving the poster being wrong promotion with other people, reshoots it feels to me like someone was constantly pushing them down and them standing again etc... so many problems so i'm glad it got made one story is fluffy and funny and the other is sad and very realistic there is something for everyone
Was this review helpful to you?