If you're still experiencing technical difficulties, please report it
here
.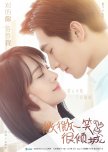 Love O2O
0 people found this review helpful
First of all, I'm not a fan of online games, yet I totally fell in love with this one.I usually prefer to watch short dramas so I took a long time, debating whether to watch this or not. I'm glad I did.
PLOT:
A light hearted drama, with no major twists or lag. Online gaming plays an important part in the story line and make this more interesting to watch.
CAST;
After watching this I'm now a huge fan of Yang Yang.Even though Zeng Shuang literally doesn't match with her character description, you will surely fall in love with the lead pair.
MUSIC:
The opening song is catchy and loved the OST sung by Yang Yang.
REWATCH:
Definitely .
OVERALL;
Loved it . Made it to my top ten dramas :)
Was this review helpful to you?