The website is currently undergoing maintenance. Sorry for the inconvenience.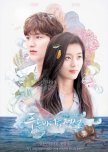 ,i love this drama!... Especially the actress who performed a great acting and has a sense of humor!...The character of the funny mermaid fits to the characters of the actress well..But Lee min Ho is a nut when it comes in kisseng scene...He looks like a maniquen, he is lacks of romance...I love Lee Jung SUK rather than Lee min Ho when it comes in kisseng scene....Lee Jung SUK is very hot guy who know tomplay well his role...
Was this review helpful to you?