The website is currently undergoing maintenance. Sorry for the inconvenience.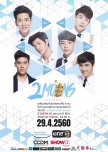 Good story! But, I feel this series is like SOTUS? Like there is a pink milk scene? Scenes of the men's and women's election contest for the university? The bracelet scene? Their scenes express feelings of love on the mattress or in the bedroom? What is the author of the same ?. I think this series is also too hasty, like to convey a sweet story in the novel course. Then I see, the actor is also not playing well! Only the best Tee and Coper here! And the other actors are still stiff. Sorry they should rehearse and not just rely on their handsome faces and cute faces.
Was this review helpful to you?