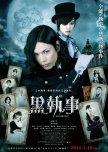 I wanted to like this movie, and I do like this movie. I love the filmography, the costumes, the lighting and the music! I think the actors are fine.
Basic plot: There are a series of mysterious deaths in Tokyo. Rich people are found having "turned into mummies." Enter the Genpo/Phantomhive (I'm using a slash to indicate the film/manga name difference) Kiyoharu/Ciel. She (he, as she must masquerade as a boy in order to succeed the family company) must uncover the truth behind the murders. (I only saw the movie once, so I sort of forget how we found out that Genpo/Phantomhive got the case by order of the English Queen/or if he was snooping...) A high class, criminal club, drugs and hints to a larger crime organization make this futuristic Tokyo crime/supernatural movie quite interesting.
Mizushima Hiro's Sebastian, Goriki Ayame's Kiyoharu/Shiori were good. Rather dramatic, but good. I wonder what other options Mizushima could have considered for Sebastian? He came off as darkly amused to me... He MOVES like a dancer, and I liked the action. His smiling Sebastian was creepy, hahaha. He seemed more creepy than handsome/lady killer to me, but probably that was what he was going for. Shiori/Ciel was pretty good. :) I didn't fall in love with the character rewrite, and nor did I hate her.
It's a dark, mystery/action movie. It also requires suspension of disbelief (I mean, Sebastian IS a demon). If you like Steam Punk, I'm sure you'll enjoy the costume and filmography. The symbolism and back story??tragic past) are also there, and I think fairly well explained. (MUCH faster and in a bit more obvious ways than the manga, in some ways)
Also, Kenshin (movie) viewers-- there are some interesting parallels, but I won't go into them for fear of spoiling someone. ;)
Most fan-people seem to have bones to pick because of the setting change (in the future. In Japan) and the gender change for Ciel, but I think it was all part of marketing. I mean, we can't expect them to go to England and hire only English people (except for Tanaka, Mei-Rin of course, etc). Also, those movie people probably thought they could market to a wider audience with a girl Ciel/Shiori. And I didn't dislike Shiori/Ciel! I thought it worked ok. The setting too-- much easier for them to film. Also, Shiori liking gothic/Edwardian style clothing is not really a problem for me. Gorgeous outfits, yay.
Manga characters were left out. Mei-Rin, Tanaka, Madam Red, (name changed to....sorry, forgot), and Undertaker are the only manga characters. Remember, it is set in the future. Many manga lines are referenced.
Liked the movie. Looking forward to hearing other people's ideas about the movie.
NOTE: I saw the film in theaters in Japan, and will see the DVD...sometime soon.
Was this review helpful to you?