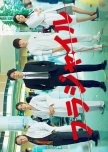 Fragile
2 people found this review helpful
The story of fragile centers on the character of Chihiro Miyazaki played by Emi Takei as she learns how to be a good doctor that is able to accurately determine the illness that is causing a patient discomfort by joining the pathology department that is led by the brilliant but unsociable Kishi played by Tomoyo Nagase. Unlike most other medical dramas that either focus on the normal ER doctors or nurses this drama features the characters that work in a field that is not well represented within this genre. This i felt was a interesting topic and setting to put the main characters into.
Each of the cases that were shown in the drama were self contained stories that never less featured multiple problems that were affecting the patient in addition to the illness itself. While Kishi is usually the one that deals with the illness itself Chihiro will be the one that listens and tries to understand the problems that are causing the patients harm. This combo i felt was a interesting as it made use of both characters differing personalities to their fullest. I actually enjoyed the cases that were featured in as each case is usually not what it appears to be and in some cases the circumstances of the illness and the characters situation can be rather surprising. Each of the cases i felt was well designed and thought out.
characters
Emi's character is Chihiro Miyazaki a doctor that works in the hospital and a
somewhat kind and compassionate doctor that cares about the well being of her patients.
Emi's portrayal of the kind hearted and compassionate Chihiro was as flawless as ever. Her character provides a great foil to Kishi and seeing her try and understand the feelings of a patient is really heartwarming.
Tomoya Nagase plays Keiichiro Kishi a pathologist that works alongside
Emi's character. He is excellent at his job but self centered and not sociable
to others.
His character though not sociable and not given to being nice to people
is straight to the point and is not afraid of speaking his mind to others
especially when their diagnosis are incorrect. And of course he doesn't like to meet people because of his personality quirks. His methods are not always by the rules but always aim to save the patient. However when Kishi does notice a peculiarity in a patients diagnosis he will try his hardest to determine what it is in an effort to save the patient. And its this determination that i respect.
This is the first time i seen Tomoyo Nagase in a lead role and in this i thought that he did a fantastic job of portraying the stubborn but steadfast Kishi who aims to get his diagnosis 100% correct and therefore treating the patient correctly. Seeing the bond that the Chihiro and Kishi develops over the series is one of the highlights of the show.
support characters
Kishi's assistant tech Mori though is an interesting character as he is the only one person in the department beside Kishi and the often absent department head. Mori without spoiling the review is pretty smart and often works in conjunction with Hosoki and Chihiro to get Kishi to get serious about a case. Mori's insights though are often useful to the cast.
The show has plenty of support characters some good while others villainous
for doctors.
Dr Hosoki played by Koyuki is a interesting support character in that she and Kishi are old friends and as such knew each other pretty well. Her character provides a lot of good advice to the main cast when they need advice on their cases or their lives. Despite being a support character Hosoki plays a part in nearly every case that Chihiro and Kishi tackle usually acting as the moral heart of the case.
Former SKE48 idol Rena Matsui plays the mysterious and shrewd Naomi Hibako who works for a pharmaceutical company that both helps and hinders the main cast. Though i only seen Rena act in a few dramas her performance here is a vast improvement of her past roles and i thought that she portrayed her character pretty well.
conclusion
Fragile i felt was a pretty good medical drama that had a solid cast of both veterans and newbees. As with all medical dramas it adapts a case by case format as its story along with a emphasis on the developing bonds between Kishi and Chihiro. Each of these cases were interesting and are all self contained story-lines. As the series progresses and you see Kishi, Chihiro and co work
to save the patients its nice seeing them develop bonds of friendship and respect for each other.
The acting ability of the cast i felt was excellent especially Kishi's actor Nagase Tomoya who portrayed the cool and brooding Kishi and Emi Takei who portrayed the new but honorable and determined Chihiro pretty well.
Normura Shuhei, Koyuki and Kitaoji Kinya who portrays the characters of
Morii, Hosoki and Kishi's mentor Nakaguma also deserve some praise for their
performance.
One aspect that i liked about this show was that how Kishi and Chihiro consistently deals with arrogant doctors that care only about maintaining the status quo and reminding them that they should do their very best for every one of their patients and ensure that their illnesses are correctly identified and treated correctly. This i felt was pretty hearwarming
Was this review helpful to you?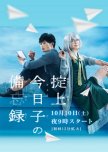 Having been a fan of Aragaki Yui for ages I was really looking forward to this drama when i heard about it and im happy to say that i was not disappointed.
The main storyline revolves around the solving of cases as most detective and mystery drama's do. The individual cases i felt were well thought out and though each case may appear simple they are anything but.
The cases and how they are solved by the cast are well explained and illustrated via the use of diagrams that are both flashy and easy to understand a fact that i applaud. The main story is very light, funny and pretty relaxing and it was fun to see the relationship between the two main characters develop as the show went on.
In terms of characters and casting Yui Aragaki and Masaki Okada did a fantastic job of portraying their respective characters. As a long term fan of Yui i have to say that she gave a flawless performance portraying Kyoko. Masaki Okada is one actor that im familiar with as he had lead role in Legal high 1 and 2 where he acted alongside Yui and i have to say his performance here was really good.
Apart from the main cast the support cast i felt also did a pretty good job especially the owner of the cafe and the waitress that knows martial arts.
Overall this show has a great story that is both fun and light and this is backed by the excellent performance by the cast. The music for this show is also pretty well done.
Im not normally one to rewatch drama's but this will probably one that i will watch again at some point.
Was this review helpful to you?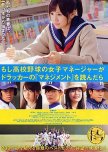 The Story is about a friend taking over the role of a manager for a club from her friend who has fallen ill with the club in question being a high school baseball team. While not too keen on managing the club in the beginning the friend who is called Minami Kawashima played by former AKB48 idol and now actress and singer Atsuko Maeda slowly learns the actions and care needed to manage the team.
This is the first role of Atsuko Maeda that i seen since Q10 and i have to say that she has improved a lot. Plus she has got much prettier.
I have been a fan of Haruna Kawaguichi since i saw her performance in detective vs detectives and though this film was before then Haruna's performance here is still impressive.
Music was pretty good but got much better near the end when the music club and cheer club joins in.
Overall i loved this movie because in addition to great acting and story it also reinforces the lesson that with teamwork and support you will be able to achieve your dreams someday.
Minami Minegishi i know from AKB48 but she is also a surprisingly good actress. Here she delivered her lines perfectly though her facial expressions could use some work.
The overall story i found to be really good and heartwarming and especially near the end where nearly the whole school ends up helping the team. That was a great scene and seeing each of the different clubs working together to help them is hearwarming.
The final match was well played and it was nice to see the team that was ranked so low to actually be able to win the title.
Was this review helpful to you?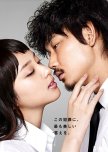 First of all I have always been a fan of the detective mystery genre since the first Jdrama series that i seen. Additionally I been a fan of Emi Takei since i seen her performance in the Ruruni Kenshin movies. So this series was one that i always wanted to see.
Story
Unlike most detective mystery dramas which usually follow detectives this drama revolves around a female student played by Emi Takei and her teacher who is played by Ayano Go. Personally i liked this paring as this kind of relationship was pretty unique and i loved to see the relationship that the two characters have.
As with all detective mystery dramas the drama revolves around the solving of cases by the pair.
Casting
Having seen Emi Takei in the Ruruni Kenshin movies I knew full well that she was more than capable of playing the role of Moe. And having seen the entire series i was correct as Emi's performance was amazing.
Having only seen Ayano Go in Soratobu Kouhoushitsu where he had lead role alongside Yui Aragaki i knew that he was a capable actor. His portrayal of Moe's professor and friend Kohei Saikawa was good but some of his expressions i felt were a little stiff.
Arguably one of the best performances in this drama alongside Emi's was Akari Hayami's portrayal of Shiki Magata who is a central character in this series. Her performance as the calculating genius level scientist was excellently played.
Cases
A good detective mystery series won't be one without some good cases to make it interesting. All of the cases in the series were well created and the mystery behind them was not always easily solved which is always a good thing. The cases in the series covered plenty of variety and all were pretty interesting. However i believe that the series did overuse on the locked room mystery's which though popular can get old pretty fast if overused.
Likes
Dynamic relationship between the main characters
Believable villains
string acting from Emi and cast
Music
Conclusion
This was a good drama that i particularly enjoyed because of the strong story and the strong acting from Emi and the rest of the cast. The cases featured were pretty interesting and can be surprisingly hard to figure out. The music in this show was particularly good and was appropriate for different scenes.
If you like Detective mystery dramas that have a strong story and a strong cast then this is definitely a good series to watch.
Was this review helpful to you?