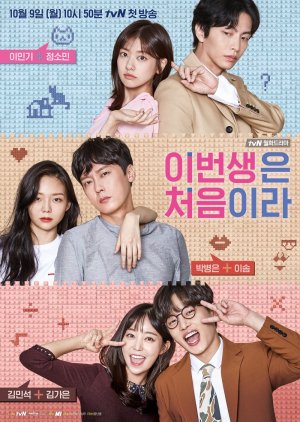 WARNING : this drama is only for sensible and mature audience. The contents of this drama can blow your mind so it is highly recommended to watch it on your own risk.
the drama revolves around lives of 3 couples in their 30s. It narrates how the difficulties that they face in their lives can be explained in the most plain yet deep words. Also the relationship b/w different couples and how they try to overcome it. The best part about this drama is the way how unexplained feelings are explained in simplest way. How a loveless marriage can make 2 people fall for each other more deeper and yet maintain their space without intruding each other's privacy. It explains how the society is still cursed by discrimination, nepotism and gender based inequality.  At times it was able to give some honest views about how the female leads felt by expressing their true self and not covering up their tears behind makeup or a mask. Because nothing haunts you more than the things and feelings left unexpressed. 
Although it was a good drama but there are still some drawbacks which I want to point out.
1. The episodes were too long because the writers were suppose to focus on all 3 leads.
2. The storyline was unpredictable in start but it became a bit predictable after some episodes.
3. It got bit monotonous after few episodes because it started following the story of clichéd kdramas. So I would watch it after piling it up then watching it fresh.

So lastly I would say that more then the story or acting, the way each dialogue of this drama was carefully knitted to the scenes or people associated with it was beautiful. Each line of the drama depicts the struggles and hidden meaNing that could be read from our surroundings to overcome it. Also how some plain lines can express a person's emotions and his personality in a raw and simple form. 


Was this review helpful to you?