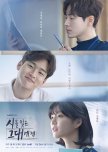 the story setup was so unique as was the characters and their backstories. but i can think of a million things that could have made this drama better.
i feel like a lot of time went into characters that brought virtually nothing to the central story/characters. i really hated watching the radiologists cause i couldn't understand what role they had to play in the story it honestly felt so pointless that i started skipping through all of their scenes lol. all of that time spent on those characters could have been put into developing the main characters and their story.
like lemme talk about doctor ye real quick. i feel like there was too much room left for development with him. he was such an interesting character but i hardly felt a connection because he stayed the same throughout. i really really enjoyed the scenes where he tried to change and actually attempted to act like a normal human. it was cute and funny and dare i say heartwarming. until he went back to being his same old robotic self. what was the point?
i also feel like there was too little time spent on developing his and boyoung's relationship before they got together. my guy literally came out of nowhere saying he liked her and my ass wasn't convinced. they spent too much time on boyoung x minho and too little on boyoung x doctor ye. i didn't feel anything with their relationship :(
with a lot of the characters and relationships in this story i felt no connection and it lacked the depth that it presented at face value. this is because, as i previously said, they spent too little time on the characters and relationships that actually mattered.
i can't say i was disappointed or anything idk how i feel truly. if i had to describe this drama in one word it'd be gentle. i like what they tried to present in this drama and as much as there were good things about this drama, there was just as much wasted potential.
Was this review helpful to you?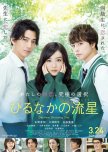 for once a live action shoujo adaptation that didn't make me cringe and wanna rip my eyes out.
this is my favourite shoujo manga and lemme just say i started this movie with zero expectations cause i know how disappointing and horrendous manga to film adaptations can be and i didnt wanna ruin it for myself. but i was pleasantly surprised, really it was so much better than i thought it would be.
story: the way they managed to fit the story into a two hour film was surprisingly well done. although i was much disappointed that they excluded some scenes and i do feel certain scenes could've have been done MUCH better, it honestly wasn't bad. as a fan of the manga, i'm very relieved and satisfied.
acting/characters: at first i was VERY sceptical about the cast. mainly because i was hung up on kentaro not being cast as mamura, but again, i was pleasantly surprised. miura shohei surprised me the most cause i've seen him in a girl and three sweethearts and he was pretty terrible in there lol but he did a really good job playing shishio.
nagano mei was my favourite though. i dont think they could have chosen a better actress to play suzume she was so perfect tbh. and although im a bit disappointed i feel like we didnt get enough of yuyuka's character, yamamoto maika did an amazing job.
overall i think the movie was good. not The Best but i'm really glad one of my favourite mangas got this good an adaptation.
Was this review helpful to you?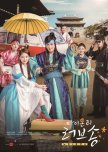 the acting in this was superb but the script was horrendous. this entire drama was filled with over the top cringeworthy humour and awful relationship development. i could barely get through an episode without gagging lol.
like everyone says, the main couple had great chemistry but that wasnt enough to get past their annoying relationship development. i actually liked them better before they got together.
and i'll be honest while the acting was good, the only natural character in this drama was sam yong. everyone else seemed so awkward and out of place.
this story had potential but the story just wasnt executed well :/
Was this review helpful to you?