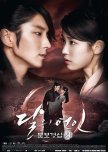 MLSHR is among a small number of k-dramas that have left a deep impression on me, yet it's also a drama I'd hesitate to recommend to people at large. There are a couple of reasons:
(1) The extent to which you'll enjoy this drama depends on whether you value IDEAS or EXECUTION. If you're the second kind of viewer, this show may drive you mad. The general consensus is that Scarlet Heart: Ryeo had a great story that was screwed up by messy editing/directing/pacing etc. and not enough space to tell it (20 episodes compared to the original 35-ep C-drama). I'm very sympathetic to this assessment.
However, I'm also the kind of viewer who will forgive a lot of flubbed execution for a really good idea, which this drama has in spades.
Scarlet Heart Ryeo is above all an *ambitious* drama, probably excessively so. The upshot is that it has possibly the most uneven execution and post-production editing ever committed... but at the same time some of the most complex and compelling character arcs I've come across in kdrama. It's not for nothing that the show has drawn such an unusual amount of discussion and fannish activity, especially internationally. (MLSHR was poorly received in Korea, but it is/was a certified international sensation, the first ever kdrama to make Tumblr trends, etc.)
(2) My other "disclaimer" for MLSHR is that it has a deeply cynical and subversive approach to romance. If you're looking for a fairytale where love conquers all, this is not the show for you. If you're looking for a classic tale of star-crossed lovers foiled by evil external forces... this is still not the show for you.
If, on the other hand, you're the sort to appreciate tragic missed opportunities of love driven by bad timing and fatal ***character flaws***, then Scarlet Heart: Ryeo is the Greek tragedy of your dreams (and/or nightmares). In a market saturated with wannabe Pride & Prejudices, Scarlet Heart Ryeo is out here being a totally unapologetic Wuthering Heights, which is pretty gutsy for a YA reverse-harem premise. (To be fair, they were working off of the Chinese novel, but they *could* have made it more public-friendly.)
Here's the bottom line: This drama is an acquired taste. If you're not a fan of tragedy or bloodbaths, if you need your female characters to be ~empowered~ and save the day, if you prefer people in love to be functional and communicate well — look elsewhere.
However, if you enjoy nonstop political scheming and backstabbing, majority-villain ensembles (including both male leads, arguably), and romantic narratives that reject relationship = identity myths, Scarlet Heart Ryeo is probably up your dark and twisted alley.
Was this review helpful to you?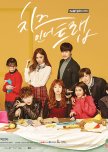 I'm developing a talent for being drawn to controversial dramas. Cheese in the Trap was a highly anticipated series that, while, being produced, gave rise to a cacophony of behind-the-scenes drama that escalated to such an extent that many now consider CITT one of the biggest disappointments of 2016. In light of that mess, my recommendation for enjoying this drama is to be as unfamiliar with the source material (the web-toon on which it's based) as possible.
Now that we've got that out of the way: Despite unevenness, Cheese in the Trap is a narrative success in my books, for many of the same reasons I've also defended that other 2016 YA drama with a bad reputation, Scarlet Heart: Ryeo. (Speaking of, MLSHR is one of the recs under CITT because it, too, has a "questionably crazy male lead." Hilarity.)
Anyway, k-drama romances tend to fall under two trends:
(1) Zany Disney-esque romcoms where love lifts everyone up where they belong (see: My Girlfriend is a Gumiho, To the Beautiful You, You Who Came From the Stars, etc. etc. etc. etc.).
(2) Toxic and imbalanced relationships that are glorified with undeserved happily-ever-afters (see: Boys Over Flowers, The Heirs, and so on and so forth).
Cheese in the Trap isn't either of those stories. Much like MLSHR, CITT is concerned with one overarching question: Can a person change another person? (Alternatively: Do people change *for* other people?) The show doesn't give a pat answer, and that's to its credit.
In short, this is a slice-of-life that isn't afraid to go dark (and not in an incongruous after-school special way — unlike Age of Youth, the darkness in CITT is fully fleshed out). If you're looking for light, escapist fun that delivers a straightforward message, there are literally hundreds of other dramas for you. If, otoh, you want a complex story about young adults that doesn't idealise its characters — but also, importantly, doesn't descend into nihilism — you might want to give Cheese in the Trap a shot.
Was this review helpful to you?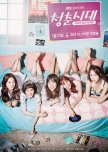 First of all, the number one reason to watch Age of Youth is that it's the rare k-drama that's entirely female-driven and, on top of that, isn't driven by romance.
Of course, there are plenty of great k-dramas out there where women drive the plot; in those stories, though, the female protags usually share equal space with male leads. And there are a few gems I've come across that aren't about romance, but these examples are very much male-driven (Misaeng, SUFBB, White Christmas — all of these shows respect their women, but none of them are *about* the women).
Age of Youth, however, is an anomaly in revolving around a main female ensemble with all male characters being pushed down to supporting character rank (just check out the cast list here). This is in itself is a little bit momentous, and it's the kind of thing there should be more of.
Don't get me wrong, in general you can count on k-dramas for female characters with points-of-view. Still, the bulk of them follow the YA novel tradition of revolving around *one* girl, meaning that relationships between different women are rarely fleshed out (or at least, not as fleshed out as that of the female lead/male leads). Age of Youth, however, isn't about one girl. It's about five girls — five girls with their own inner lives, goals, and ghosts-in-the-closet (thanks to Jiwon for that unnecessarily dramatic metaphor). These stories might feature romantic subplots, but they're not the main event. The way these girls relate to one another is the real emotional core of the series.
Since I've sung my praise, for the sake of fairness I'll touch on a couple of the show's weaknesses.
Being such a short drama, AOY is definitely hurt by trying to do too much with a lack of time. The upshot is it suffers from the typical ensemble show problem of uneven character work. While some arcs are fully realised and flawlessly constructed (particularly, the growth of Hwayoung's character), a couple of others sadly fall to the wayside. (Han Seungyeon's character is the most egregious. If I didn't know there'll be a season two, I'd find the lack of time given for Ye Eun's post-traumatic arc absolutely unforgivable. Since there *will* be a season two, though, I aggressively expect this to be the #1 priority.)
My other gripe is about tonal inconsistency. Again with the trying to do too much, AOY teeters between realistic slice-of-life and... dark psychological thriller? Let it be said that it's much more successful at the former. Some of the darker story-lines work because they're *character-driven* (again, not sorry about Yina's narrative), but most of the show's dips into other genres are unfortunately half-baked. Considering that lack of time thing, AOY would have been more cohesive by cutting the excess.
THAT BEING SAID, these flaws stick out only because AOY is so quality in every other way. If you want a drama that actually cares about women's stories (and why wouldn't you), you arguably can't do better than Age of Youth.
Was this review helpful to you?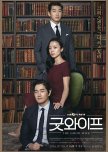 As a long-time fan of the American original I had lofty expectations for Korea's remake and am happy to report it did not disappoint. K-TGW is very, very faithful to the source material, and maybe more significantly, it's also not afraid to go its own way. *Many comparisons ahead*.
With regards to plots, K-TGW is a serious stickler to the original in ways that should thrill any Good Wife purist. It's abundantly clear the writers/producers *themselves* are highkey stans for TGW in light of the attention to detail in every reproduction of the original's greatest courtroom hits.
K-TGW also deserves praise for being a masterclass in pacing. For those unaware, the drama spans *three seasons* of the original within 16 episodes. 16 EPISODES. Yet, by some level 10 sorcery, all major character/relationship arcs are completely cohesive.* Particularly, the transformation of Hyekyung (Alicia Florrick's counterpart) is absolutely seamless.
(*The one glaring exception is the last act of the finale, which is weirdly ambiguous in a way that seems rushed rather than purposeful.)
Maybe most importantly, the drama also stays faithful to the bisexuality of Nana's character, which was my #1 priority when I heard news of the remake.
Where Korean TGW diverges from American TGW is in being a lot less cynical. This isn't a value judgment. I for one like my TV cynical, and I was honestly delighted by the corrosion of Alicia Florrick in the original's later seasons. Others hated it. Many read The Good Wife as a story of female empowerment and were not here for their heroine becoming a bad person and ending up alone. But I don't need female protags to be role models who can """represent""" every woman. I just need them to have fully realised journeys.
In that sense, the Korean version takes the story back to its roots. Whereas American TGW built Alicia up and then tore her down, K-TGW portrays the rise of Hyekyung and makes that a self-contained story. The drama also fleshes out a proper redemptive arc to Joongwon that would make his blithely amoral American counterpart Will Gardner roll over in his jewel-encrusted coffin. Speaking of which: Alicia/Will was a tragedy of epic Greek proportions; Hyekyung/Joongwon is not. (Naturally, I was much more ruinously attached to the former. YMMV.)
Meanwhile, Yoo Jitae's character is both more villainous and more appealing than Peter Florrick has ever been. Let it be known there was never any Peter stan-base to speak of. Yoo Jitae, OTOH, probably deserves one.
I wouldn't necessarily call these changes an improvement per se. A happier story doesn't always equal a better one (just as a more grimdark story =/= more mature). The strength of storytelling is what really matters.
What K-TGW does, though, it does very well. Whether you're familiar with the source material or not, this is one of the best dramas of 2016.
Was this review helpful to you?