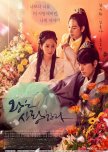 I wait every week for this drama and I've even cried with some eps. I really like it and I love Yoona, I think she's doing great, people hating on her and i really don't understand why. I'm in love with Won and i feel so sad for him, he tries his best to protect the people he loves but still he doesn't get what he deserves. Rin's such a loyal man and i feel sad for him because ha has to give up his love for San but i think Won deserves more her love. The big mistery for me is, does San love Won or Rin?
Was this review helpful to you?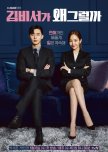 This is a pallet cleanser drama, plain and simple. The main couple is adorable from the first episode, and the cute only increases. Even the way they approached the mystery was easy to watch. I never really wondered what happened, I just waited for the main characters to learn what happened and then explain to me why they made those choices. That was a nice change of pace from true mysteries that can become frustrating over time. And as far as the romance goes, this is some of the best I've seen. Unless something changes in the last 2 episodes, the main couple never breaks up, and that was beyond refreshing. As other reviewers have mentioned, there are some heavy duty kissing scenes in this drama, and they are very realistic. Normally you can tell the actor positions his body and hands in a certain way to keep even the bed scenes on the chaste side, but this actor just went for it. Lol Nothing was graphic, but I'd keep the younger teens and kids away from episode 14. Still, I appreciate how natural and affectionate the couple were with each other not only when they kissed, but when they held hands, hugged, or simply flirted. It all felt natural. There are also two very cute side romances that I thoroughly enjoyed. Either romance could have been the lead in their own drama, and they added to the overall feel-good theme of this drama. If you need to laugh, swoon, and smile like an idiot, watch this show right now, please.
Was this review helpful to you?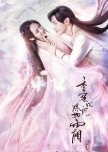 I usually watch Korea Drama and not often to Chinese drama. But this drama has so funny, adorable, and heartbreaking scenes which makes you cry and annoyed but in the end... It all makes sense! The chemistry of the two main actors are superb! Worth to watch! Grab tissue tho! I cried three times! 1. When Mi'er killed Xu feng, 2. When Uncle moon immortal explained everything at the demon king wedding. 3. Xu feng begs and cried a lot at the last episode.
The plot, acting, music, cgi, cinematogrpahy and costumes are really perfect !!!
What are you waiting for? Watch it now!
Was this review helpful to you?