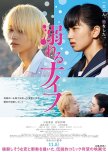 I feel like several people were confused by this movie because they were thinking too much of it, I found that the answers to everything were on screen; it was quite a simple story actually.
If I had to sum it up it's a touching story about youth.
One thing I absolutely loved about the movie was the way it depicted youth. It showed you immature teenagers trying to act older than they actually are. The cast, while all much older than actual teenagers, managed to portray the childishness of adolescents perfectly, something that I find very scarce in media.
Another thing I enjoyed was the way it was shot, it was refreshing. Seeing all those gorgeous scenes made me want to watch the movie even more.
Would I watch this again? Most likely not but it made for a good experience and it was filmed so beautifully so I would definitely give it a go.
I recommend it to anyone who would like something to watch on a dull summer's evening!
Was this review helpful to you?