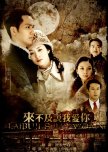 This review may contain spoilers
I'm not really sure how I feel about this drama. I don't want to say that I really enjoyed it but I don't want to say that I dislike it either.
Great things in this drama:
-the acting
-the chemistry between the main lead actors
-it's loosely based off a real person in history
-formidable villains
-the pace generally isn't too slow unlike many dramas
-some character development
-happy ending unlike many Chinese historical dramas
-well thought out uses of symbols and cinematography
Bad things in this drama:
-the setup for the ending
-frustrating villains but this is what the drama intended so it's not actually a bad thing
In comparison, the good things should outweigh the one real bad thing, which is the ending. However, the ending really decides how good the drama is. I don't want to give any spoilers, but the drama writers kinda pulled a deux ex machina from their butts at the end which I wasn't particularly happy about. I appreciate the effort to end the drama on a positive note but still...
In any case, the journey through most of the drama itself will probably negate the weird ending. I'm rating the rewatch value lower because I'd skip all the angsty villainy parts and just rewatch the good romantic scenes. Overall, pretty good drama!
Was this review helpful to you?