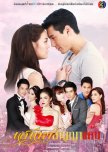 (sorry, this is my first review)
Not a bad Lakorn, there are nice and funny scenes as we wish. (only for secondary couples)
The reason for the low grade is "for whom the script came".
Most viewers do not like the theme that this Lakorn automatically loads, eventually do not like the story.
But for those who sympathize with the theme (which is something off the KDrama line), this is very good.
I was afraid of certain scenes, but I had to understand the theme of the story.
Honestly, it is something that you will love or hate so much.
Personally, I wish the female leadership would be more difficult with the one who caused her pain.
What pleased me, was undoubtedly the performance of everyone in the cast. That yes, it is something good in this work.
Was this review helpful to you?