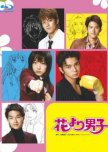 (Before I start, I just want to stress that I am particularly biased when it comes to the two lead actors Inoue Mao and Matsumoto Jun (my OTP, yes), but I will try to critically assess this series to the best of my ability.)
This is actually the show that pulled me out of my Korean series comfort zone and pushed me to the Japanese one.
The story line was good. It did lack in the romance department, but in a way that's understandable since they were still trying to build the foundation of Tsukushi and Tsukasa's relationship. Additional points also for tackling issues such as bullying, violence, high school hierarchy, and such, although this may be credited to the original manga rather than the series itself. The actors weren't as good-looking as that of the Korean version, yes, but their protrayal of their characters are outstanding. I'd say there was no one who could play Makino Tsukushi better than Inoue Mao. She was perfect for the role! And Shun Oguri was also the right choice for Hanazawa Rui. At first I was a bit hesitant with Matsumoto Jun being Domyouji Tsukasa (prolly because of that perm, lol) but as the series developed I couldn't imagine any other Domyouji other than him. It probably did help that Inoue Mao and Matsumoto Jun has this undying chemistry that was enough to keep me watching (I told you guys, I'm biased towards these two). I have to be honest, you know how there are series that that you like more and more because of the main characters? That's how this is to me. The series was good and worth watching, but it grew on me more and more because of these two actors. If they weren't the couple that portrayed Tsukushi and Tsukasa, I might give off a different response. I might have still loved it, but probably not up to the extent I am in now, so it's a good thing that it was them who portrayed Makino and Domyouji.
As for what version is the best, I don't think there's such a thing as 'better' than the other. It all just depends on people's preference to be honest. As for me, I've seen the different versions in varying timelines. The first one I saw was the Taiwanese version. It was during the peak of the series, and the hype was just insane. So if we're basing it on the excitement I felt to watch the series, the Taiwanese version wins. It's the biggest hit, imo. If I haven't seen all the versions yet and I'd try to watch them now, I believe I'd like the Korean version best. It came out way after the Taiwanese and Japanese versions, which explains why the series is definitely favorable to the current audience (eye candy guys, beautiful sceneries, romantic-comedy genre... at this time, who wouldn't love that, right?) However, up to this date, the only series that I had watched for countless times and never got tired of was the Japanese version. I've grown to love this series more than I'd ever imagine.
Furthermore, I gave it a 10/10 rewatch value because once you've loved this show and the actors, you'd love it for the rest of your life. I've seen it for more than 10 times already and I still enjoy watching it every single time.
P.S. You definitely should proceed to Part 2 ASAP once you finish this.
Was this review helpful to you?