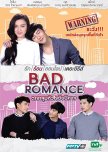 This review may contain spoilers
SO FAR (because i haven't watched the entire series - even though the rules to this says that you should)
I loved it.
WHAT I HATED, (and this is no spoiler since it happens in the first ep) is that Korn and Knock stumble upon so many problems. I get that the series is titled "Bad Romance" for a reason, but i swear it was only directed and Korn and Knock. You'll see them cutesy in 20 minutes, and then the next 20 they're stumbling again. I wish they were just stable for at least one episode.
OTHER than that, this series is pretty legit. Just saying. I mean they've got me on the edge of my bed and I've binge watched everything up until now. I haven't laughed or cried at the same time for so long.
WHAT WAS SLOPPY was the sound effects. they literally had slapstick sound effects such as a car honking or a horse neighing or that *plonk* sound when you fall. It was the only thing that made this series less attractive, but honestly when you look past it, the story made my heart flutter and break within just one episode.
A 100% must watch. I promise. You'll get frustrated here and there from Knock and Korn but come on, you'll love it.
Was this review helpful to you?