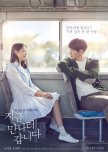 To say that I "liked" this film would be considered an understatement. The original Japanese film adaptation was already amazing, however, the execution in terms of delivery and cinematography by Korea set the bar to new heights.
The story provides a refreshing and heartwarming story about family, love, hardship, and a promise. The story telling of the film is set a pace that causes little confusion, if the the viewer has read the synopsis prior to watching. The opening narrative prepares the audience for what is to come and meaning behind the narrative does not fade through the film. Despite, the beginning setting the film provides light humor through the film where the audience would not be expecting. The ending of the film will leave the audience feeling satisfied and not disappointed as the are no loose ends. The choice of cast, So Ji Sub and Son Ye Jin, were great. The visuals and quality of acting both actors provided were well suited for their roles. Furthermore, their younger counterparts, Lee Yoo Jin and Kim Hyun Soo, provided admirable skills. The overall use of music throughout the film highlighted the message and importance behind each scene. In conjunction with the cinematography employed allowed an engaging and enjoyable viewing experience for the audience.
As previously stated, based on the delivery and cinematography this re-adaption of "Ima, Ai ni Yukimasu" exceeds the quality of the Japanese film. I personally highly recommend to watch this film in its entirety, as the delivery of the story is well carried out and has little to none loose ends - leaving the audience with a lingering feeling. Although, you will foresee what is to come re-watching this film a second time will provide a more in-depth understanding between each interaction.
Was this review helpful to you?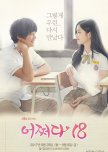 If your fan of "Boku Dake Ga Inai Machi" that will be to your liking.
Somehow 18 shares a similar story, with the male lead at the start of the story go back in time where he tries to save the heroine with the future knowledge he has. The structure of the "mini-series" is a strong point of the drama because the content is so genuine, any additional scenes would make the drama seem dragged out. However, the story has a few elements missing resulting in the viewer to seek more answers or wanted more... but that is my personal opinion.
Overall, with the "small" amount of run time required to complete this drama it definitely is worth the time. If your looking for another "Boku Dake Ga Inai Machi" that has another alternative ending like the original Japanese drama and movie, this is a must.
Was this review helpful to you?