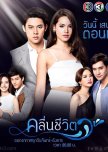 Both female leads are famous actresses and have similar personalities. They're independent and would stand their ground for what they think is right. They won't let anyone push them around. Also, they started on the wrong foot with the male leads, who both seek out justice for the people.

Kleun Cheewit and Nang Rai Tee Rak are my top Thai dramas. We know that their TV series lean more on the slap/kiss genre, which is actually a very good watch if executed properly. I do believe that both have managed to balance the love/hate relationship that the characters have. Too much angst and drama and there are characters who go over-the-top but all in all, both dramas are highly recommended.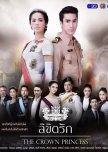 It has the same bodyguard trope and both male-leads are Lieutenants and are the best on their work. Female leads have the same stubborness and spirit,and does sometimes act spoiled and puts themselfes into trouble in which the male-leads always have to save them. There is also suspense in both dramas.