If you're still experiencing technical difficulties, please report it
here
.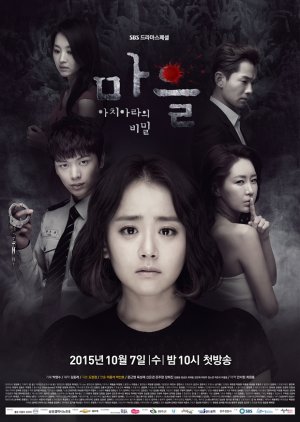 The Village: Achiara's Secret Episode 7
---
---
The Village: Achiara's Secret Recent Discussions
The Village: Achiara's Secret Episode 7 Reviews
1.Everyone at the church is panicking--except for Yoo Na. She is extremely calm (guess who did it?). The mother faints and is taken to the hospital. We learn that...Yeong Sa (I think?) has returned and is using the lumber area for his 'studio' and that is why it is now locked.
2.Ji Yook reveals she is pregnant (I wonder if Hyo Jin is her daughter) she continues to hear things like 'mommy, why did you kill me?' and accuses Yoo Na of saying these things. She warns her to stop making things hard for her.
3.So Yoon investigates and connects with a major news network to confirm if the nurse they used during the special with the ghost mother is her sister. They meet with her because 1)the woman was killed and 2)it is in the same area as the serial killings. They confirm, through footage, that the woman was in fact Hyo Jin and that she had been deeply interested in finding her own mother. She returns, contacts officer Park, and they go to speak to Hyo Jin's 'mother' for answers, but she's left to kill herself.
4. The mother tries to drown herself but Song rescues her, gives her CPR. It seems she had planned this as she had sold her business before coming. She shares that Hyo Jin was in fact her daughter. She adopted a young runaway, but later died by drowning and her body was never recovered. The girl she adopted, it seems, was her sister. (It might explain why she took the name Hyo Jin).
5.Elsewhere, a 7th serial killer victim is found at a construction site.
6.The officers interview a cow farm owner. It seems he is the former driver. he had a history of debt, and they pressure him, suggesting he was fired for being unreliable--but then how did he get so much money? He insists it was form an inheritance. They accuse him of taking money from the assemblyman as payment for killing Hyo Jin. He shares that just before the girl died, he was asked to drive along a remote road where the assemblyman met with Hyo Jin. He did this twice. He was not in the car when they spoke. Then he frantically makes a phone call and states that he is being set up for murder--the person on the other end? The assemblyman's FATHER.
7.Meanwhile, the Captain removes the officers from the case in spite of all of the evidence they have collected and scoffs at their belief that the Gwon family is related to the girls death. He tells them that there is no reason Gwon would kill a girl when the position he wanted was so minor, and he ignores the officers when they say that maybe he had another reason. They are very angry. He also tells them to ignore the fact that their daughter painted on the church, (Oh by the way, they found out she was the one)
8.Meanwhile, Hyun confronts the math teacher. He tells her what he knows: that all the places they sent information for regarding the position of English teacher were cancelled immediately after sending the information. They only posted the position at So Yoon's school, and rejected all three equally qualified candidates before selecting So Yoon. He tells her that this is clearly part of a plan, but she refuses to speak. He tells her that she must have received a lot of money if she doesn't fear being fired. She also doesn't seem to fear being arrested and walks out.
9.Ba Woo's dad shows up drunk at the pharmacy and accuses the pharmacist of giving his son weird meds (Yoo Na told him) she denies it and tells him to check with the doctor. He accuses her of trying to hurt his son because 1)he saw her with Hyo Jin just before she died and 2)she threatened to have him fired from the factory if he spoke about it and now 3)she is giving him meds to keep him quiet. She asks him what he wants...
10.Park is able to 100% confirm Hyo Jin and Jung are the same and also learns that it seems So Yoon was also investigating and learned it first...she knows what that means. She confronts Hyun who basically says he was doing it to avoid an uncomfortable situation and to protect her. She tells him that she learned her sister had found her biological sister in the town and she is going to investigate who this person is and why she didn't speak up--startling Hyun--but it is more than clear she doesn't trust him. Hyun also warns her that her sister was treated with contempt after the town learned of the affair and that So Yoon should be wary of the fake sympathy from the town and that she may be a target of hate because her relationship as Hyo Jin's sister is now public..
11.The new occupant at the lumberyard received a note 'I know you are back. Meet with me'
7.Ga yeong continues to stalk Nam, and is even seen at the funeral by the pharmacist, although he ignores her. Later, she smashes his car with a rock and then walks off, bumping into Song before running away.
8.Working with the news, So Yoon broadcasts the following slide across the country: looking for information on the illegal adoption in Achiara! The restaurant owner runs to the pharmacist and tells her about the add and the fact that someone is looking for Bengmama. (How much you want to bet that is the fortune teller?)
9.At the end of the episode, Yoo Na visits So Yoon. She tells her that she began to see ghosts after she saw the dead baby in her mother's stomach. She believes her mother hates her for this, partly. She tells her that the teacher told her to write that on the wall. She also tells her that the painting of the woman holding the child was not one of love (she does this after So Yoon tries to tell her that her mother loves her) and that Hyo Jin believed her when she told her that her mother hated her. She tells her that the woman in the painting is getting ready to kill her child, and that her mother is getting rid of her (i.e. maybe sending her away) because she no longer needs her since she is going to have another child. Sure enough, the woman in the painting is holding a knife....
Was this review helpful to you?
Spoilers Ahead!