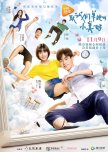 A love so beautiful (ALSB) is simply an uplifting show! You can't help but smile.
It's a show with lots of couple time.
ALSB is funny, super sweet, cute, and simply adorable. The genius boy is still cold but supportive in his own way. A common characteristic amongst high IQ individuals is lower empathy... but in ALSB the main male lead has family reasons for not having a higher EQ.
There are so many remakes, adaptations, and versions of the original Itazura Na Kiss-- and I thought the Thai version was the best-- until I I saw ALSB now in Feb 2018. The Thai version is sweeter than the original (2/3 Japanese, 1 Korean, and 2 Taiwanese versions) but it still pretty much follows the original melodramatic storyline.