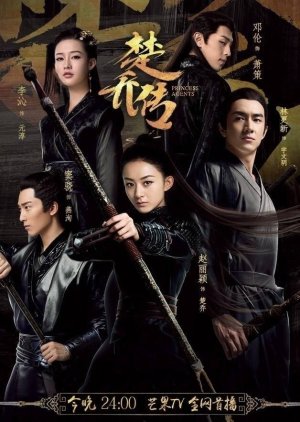 Princess Agents Episode 3
---
---
Princess Agents Recent Discussions
Reactions
Thoughts hmm... It wasn't up to par with episode 1 but way better then 2. We get to see a good dose of action which is what I really appreciate in this show.
He stopped her from getting infected by whatever poison got his grandfather... then in a non obvious way slashed her to kill the spider that carried the poison and all she sees is red. Red rage...
By the heavens what was he? That crazy grandpa... was he straight up killing them or raping them... Playing with the maids as if they were prey? It was a really disturbing scene in which I thought she would escape or be chosen somehow because poor Zanilia has already lost so much.
With each person she loves death. Each of their sacrifices be it by choice or by the hand of her enemies.. each one makes her stronger.
We get a little more knowledge on why psycho is the psycho that he is... and he gets banned from entering ice mans courtyard. Point 1 iceman.
Slightly shocking there's an unplanned group accidental death on a bridge. They think no one saw and then we as viewers magically get to see that someone did witness.
This is a slight overview but for the most part not a lot happened and I didn't want to spoil who died or did the killings in this one. It didn't leave as big of a mark on me as the first one did.
All in all the show is following a decent unfolding of story and I am still in the compelled to watch stage.
Sara Rojas JUNE 24 2017
Was this review helpful to you?
Spoilers Ahead. Warnings Dealt.