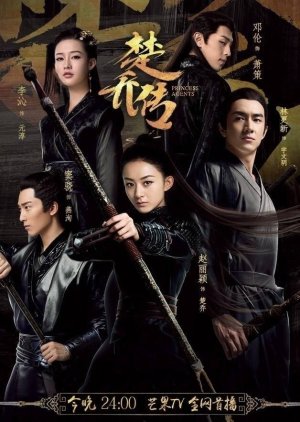 Princess Agents Episode 5
---
---
Princess Agents Recent Discussions
Reactions
Spoilers ahead. Warning shots!
Okay this is totally why I didn't put Zanilia's name into memory. She has 3 names happening. Confusing as I go through these episodes I'll probably stick with the one I click best with... For now Zanilia.
Lol the night has her saying it hurts once then CGI bird repeating it all night and then ice man says enough and the bird again repeats that. So back and forth haha so funny. We're getting slight romantic aspects popping up which is a slightly nice segue from pure murder/intrigue/politics to this.
Ice man is now at the stage of showing her martial arts. Its not exactly how I figured it would happen but I like how it is being shown. Immediately afterwards she gets a chance to put them into action. Its super classy. The action sequences are so detailed but not completely over the top. At least not yet..
Nice blue man = Yan Xun Yan Xun is now fending off even more advances from clingy high pitched voice princess. He makes an of comment about the wild kitten AKA Zanilia. So his affections seem to be growing.. Iceman = Yu Wen Yue for me right now.
Anyways Zanilia meets Yan Xun at the river while cleaning their bedding and pays him hardly any attention. Maybe its at the want what you can't have stage. He seems very forward yet really not upfront about his intention in front of others. She doesn't seem to put much weight in his words..
Oh man he says he wants her to Yu Wen Yue!!!! His eyes flicker when he hears it and says its too late.
Theres more to that one but moving on. Theres a straight up fight scene between the lady maids. ITS SO GOOD! I appreciated it so much.
Yu Wen Yue comes in at the moment that jealous maid starts using trick needles. He blocks them then slaps Zanilia. Says hes taking her for punishment.
The punishment is full on martial arts training with dull headed arrows being sent at her at random intervals. Testing her endurance, skill, agility, and observation skills. Its totally honing her inherent prowess.
I am more invested and am looking forward to the episodes to come.
Sara Rojas JUNE 24 2017
Was this review helpful to you?
Welcome to my continuing recaps. Hope this helps you make the decision to dive in head first, mind open.