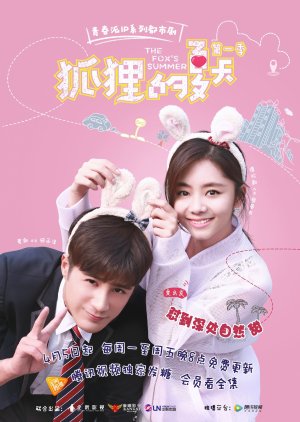 The Fox's Summer Episode 19
---
---
The Fox's Summer Recent Discussions
Reactions
Basic recap with points of characters + opinions past and future.
This drama overall I find entertaining just certain things make me dread their screen time at moments lol.
This episode is full of recap like the last one just from our OCD rabbit fellow this time.
Our main couple is at the stage of maybe half realizing their feelings? He isn't as ocd as he used to be (at least in my mind).. It's like she's been conditioning him, which I find to be a good measure of his feelings for her. They're cute which would be enough to give this episode a 8/10 if not for all of the aspects below.
Here we go... In a 3 point medley:
The brother 2ML IS SO BOTHERSOME! He's like a stalker on crack! She isn't fully hating him because at one point their relationship was very important to her. She got the friendship back but doesn't want his unending devotion in his misguided love. He's a child with no sense of the fact that she genuinely doesn't like him. At the beginning when he thought she didn't like him *basic truth* he went all antagonist on her. He even slapped her. Man I get that he felt hurt but it poisoned the well. Now he just upsets me constantly calling for MICHAEL aka ocd rabbit fellow. Wow how I've wanted to rant on him. He's not getting any better there was a time when his character was developing then that got chopped down.
Our lovely lying fox has a *B* of a step sister. She has been making me rage like a storm on the inside. How can she be so selfish that she doesn't realize tha LLF hasn't done anything to warrant your misguided hatred. I mean sure... she "took'' your love, but they were mutual love and you were one-sided affection. That instead of voicing out THIS AFFECTION to brother 2ML you chose to glare and in turn ruin her relationship by going to the grandmother WHO at this point I truly hope gets no redemption. But *B* of a stepsister at this point although I hate a lot about you if you can grab and keep brother 2ML I wouldn't completely be against your redemption. You could just need one thing of your own in order to be less terrible and nasty. IF that happens I could deal with it.
Lastly our ocd bunny fellows secretary Gao has a new girlfriend who I do like... just don't like that she's a huge liar. Basically she stalked him to find information and is genuinely into him. Just won't tell him that she has money and is constantly lying to him. Like in this episode she acted mad and waited for him to say he'll buy her meal for her. Then she orders so much food as to gauge him. Turns out she had planned to pay off over 80% of the meal total, and get the server to lie about a promotion. She stresses me out, I can only see this turning into a problem later on.
Sara Rojas SEPTEMBER 9 2017
Was this review helpful to you?
Spoilers!!!!!