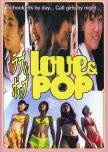 Both are about school girls doing enjo kosai (compensated dating)

Bounce Ko Gals follows three girls in their new friendship. Most of the girls are already a long term gyaru and knows how to enjo kosai. It isn't a deep movie, It's more about friendship and youth.

Love and Pop follows only one girl from a group of friends that are beginnig to enjo kosai, so they do only the simple dates like go to karaoke. They are not as gyaru as the girls from Bounce Ko Gals, but they are starting to become. Love and Pop has a more melancholy aura and it gives us a moral in the end. It's more about life than friendship.