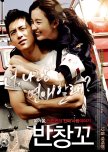 The sweetness and the cute romantic relationship in both movies are quite similiar. The comedy part in both are also similiar.

"Love 911" is a Korean romance, comedy & drama movie, while "Toshokan Senso" is a Japanese romance, comedy & action movie.

In both movies the male lead have a character of taking their jobs very seriously. In "Love 911" he is a fire fighter and in "Toshokan Senso" the male lead is part of a Library Force.

While "Love 911" focuses on the romance and drama part, "Toshokan Senso" focuses a little bit more on action than romance.