Grab some chocolate, your favorite PJ and a bucket of Ben & Jerry's
- It's time for some great Korean rom-coms.
Ah, yes. The art of rom-coms. There's a lot to say about rom-coms but I think we can all agree that over-empathizing with the characters of a fictional love story (and maybe even shedding a tear or two) just needs to be done sometimes. This version of Weekend Movies will be all about those beloved, dreamy lovey-dovey stories that we just can't seem to get enough of.  
Here's three good picks that'll definitely do the trick.
---
Country: South Korea     Year: 2008     Genre: Friendship, Comedy, Romance
In this humorous piece of art, Ji Ho (Park Jin Hee) is a lowly tv-writer about to lose her job. The only thing she has, other than her cramped apartment shared with brother Jihoon, is her crush of 10 years, Min Woo. She's been head over heels for him since high school but it's a desperate one-sided story. Waking up after a night of binge drinking, Ji Ho gets her purse snatched and in her struggle to get it back, she gets hit by a car. When she wakes up in the hospital, things suddenly take a drastic turn for Ji Ho: The man behind the wheel is no other than Min Woo himself. She thinks fast and decides to pretend that she is suffering from memory loss in order to stay by Min Woo's side. When Min Woo appears, she looks at him with a blank expression and mumbles "Who....am I..?"
Now, I know this isn't a brand new movie but trust me: it's watch worthy.
What I like the most about this movie will forever be Park Jin Hee's incredible ability to look extremely blank. Her character is so funny, mostly because of her obvious overacting and tendency to make everything go so, so wrong. Of course, she has to meet everyone she knows when she's pretending to suffer memory loss. This was just so entertaining for me to watch. I would recommend this for fun sleepovers or just whenever you need a good laugh.
---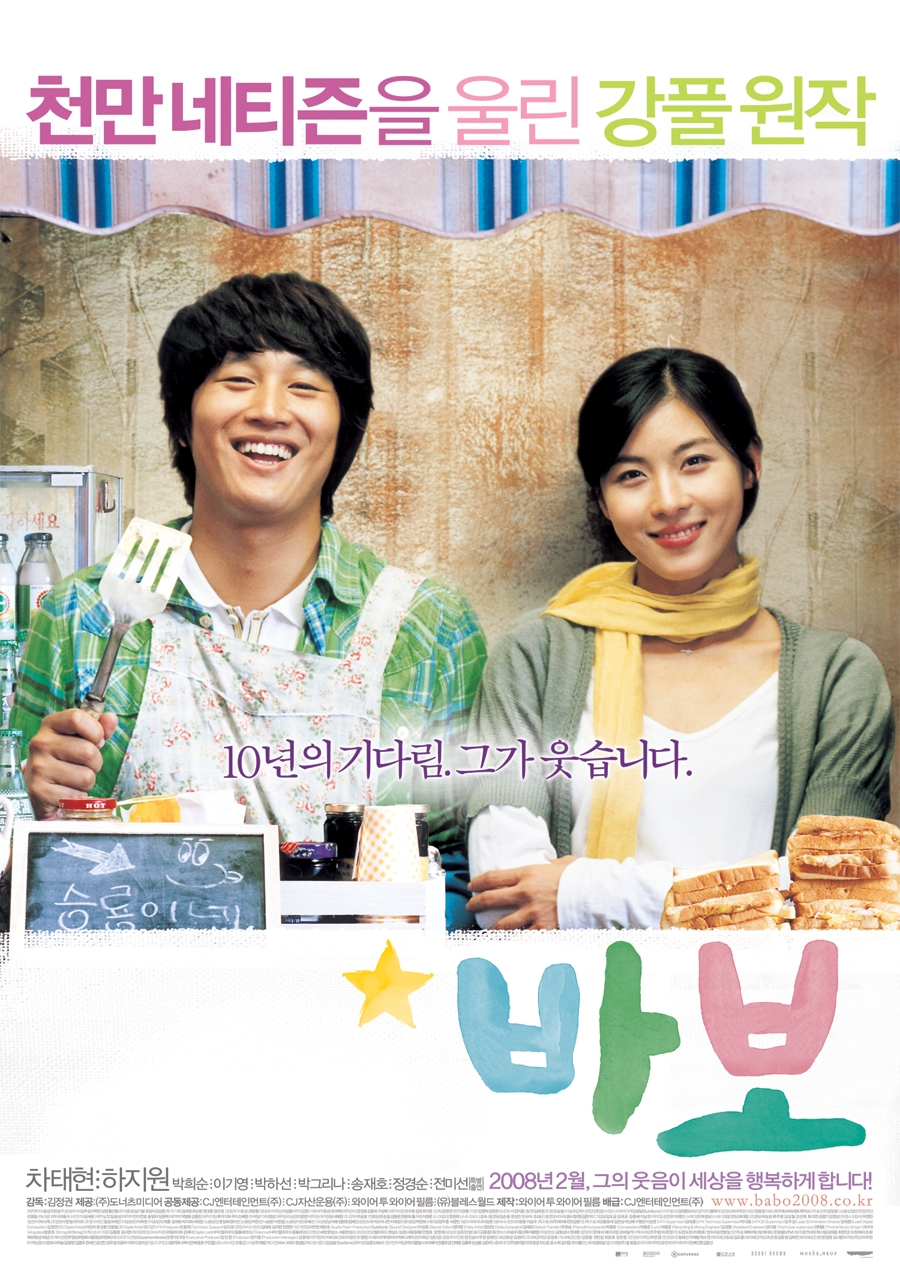 Country: South Korea     Year: 2008     Genre: Comedy, Romance, Drama
Seung Ryong (Cha Tae Hyun) got involved in an accident with his father at a young age, resulting in his father's death and his own severe brain damage. A couple of years later, his mother passed away too and now he's left alone at age 27 with the brain of a 6-year-old and his younger sister Ji-In whom he cares for a lot. Due to his brain damage, there's not much Seung Ryong can do, other than make sandwiches which he sells at a street stand near Ji-In's high school. Unfortunately, Ji-In is embarrassed by her brother due to the way he acts. Seung Ryong spends his life waiting for his first love Ji Ho (Ha Ji Won), a promising pianist with stage fright. One day, she returns to the village where she runs into Seung Ryong.
This movie is very interesting due to its level of realism and strong characters. I was taken aback by Cha Tae Hyun's acting right from the start where I found myself wondering if he was actually mentally retarded in real life. I completely fell for Seung Ryong, his huge heart and heart-warming smile.
Something else I was also extremely impressed by was how every detail that I would eventually forget came out to have a motive in the movie and it all fitted together very nicely. 
Now, this movie may be a tough cookie for some since it's not all roses and rainbows but for people open to untraditional characters with unexpected challenges, this movie will amaze you and you'll find yourself shedding a little tear (more like bawling your eyes out, cough). This is a movie I would recommend to just about anyone. It's been 1½ years since I watched it and it just stuck with me. Such an amazing movie.
---
'
Country: South Korea     Year: 2003     Genre: Romance, Drama, Melodrama
This movie tells the parrallel love stories of daughter Ji Hae (Son Ye Jin) and her mother Joo Hee (also played by Son Ye Jin).
While Ji Hae is cleaning the attic, she finds an old box which belonged to her mother. It contains lots of old letters and a diary in her mother's name. While she reads the letters, we are presented the story of her mother's young love in a flashback style. In these letters, she explains how she meets Joon Ha, a country boy, and they fall in love. Unfortunately, she is promised as a bride to Tae Su, Joon Ha's friend.
This story then intertwines with the present where daughter Ji Hae has fallen for Sang Min, a boy from her drama club. Unfortunately, she shares this crush with her best friend Soo Kyeong who asks Ji Hae to write a letter confessing her feelings in Soo Kyeong's name. Though it is tough for her, she keeps running into Sang Min.
Now - some of you might call me a cheater. I know this isn't exactly comedy - but I felt like I had to include Classic. This is a fairly well-known movie, for obvious reasons - it's extremely good.
This movie may seem a little complicated and I will indeed say that it's a good idea to stay focused. You can definitely keep up with it but because of the flashback vs present theme, it's a movie that requires your attention. However, if you give the movie the attention it deserves, prepare to be caught up in an amazing journey that's extremely thought through and very touching. 
---
That's it for my Weekend Movie Recommendations. I hope you guys found it helpful and that you might even take a minute to check some of them out. For now - happy watching!