Currently Watching
This is my second time writing this type of article, and I've generally been lazy about writing any article lately. However, when I found only few are enjoying this gem, I thought it needs more exposure. I decided to put all my drama watching aside and give time to spread some love for this drama ♥
This drama isn't easy to recommend actually. It's not the conventional at all and hard to describe. Japan does bring us a number of their usual, unsurprising, predictable dramas, but once in a while they produce those types shows where we can see what makes Japanese production so special and different from any other country. It is where Japan excels at, and always keeps Japan as my #1 choice when watching dramas. 
---
About the drama
There isn't much to say about the plot. The synopsis doesn't lie when it says: "Taro eats candy with regular customers such as childhood friend Saegusa Hiroki who aspires to be a scriptwriter, and talk nonsense, like in their youth". It is how we see our main characters spend their days. I can see why this type of synopsis wouldn't attract many viewers. Let me affirm, there is definitely more to this little dorama that may appear. It is obvious at first sight, but as you watch the episodes you will know what I mean. The focus is on the little things we enjoy in life that is easily taken for granted. Like in the Japanese language, where the verb is at the end of the sentence, so you need to wait until the individual finish his sentence to know what that individual is trying to say, sometimes you are required to watch all the way until the end of the episode to understand the message this drama is trying to convey. 
This drama is more character driven than story driven. We meet people who are living day to day without thinking much about the future. Their lives haven't changed from 10 to 20 years ago. In fact sometimes they even act like elementary school kids. It is semi-creepy but cute. In a way, you can say they are the type of individuals we, in modern society, wouldn't call successful. However I find in most modern dramas, the success the leads meet so early on in their life, or the speed where they reach it, creates this wall that prevents me from fully connecting with their characters. I can connect with with the characters in this drama more. They aren't portrayed as losers. They still each have their own aspirations in life, but somehow, somewhere along the line, they had to postpone it indefinitely. Meanwhile, they are trying to enjoy what they currently have as long as possible. 
---
Cast & Characters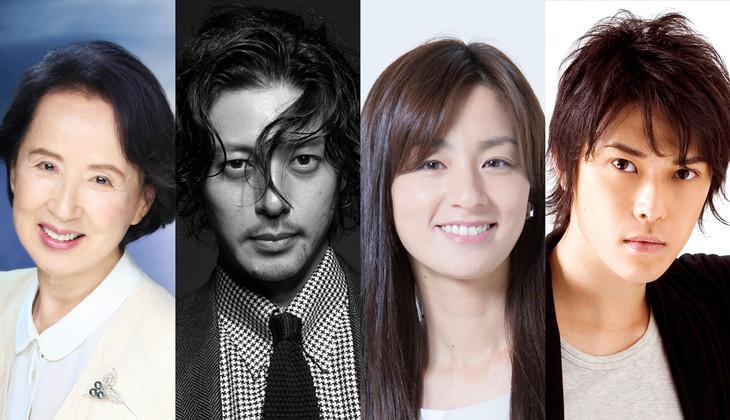 This drama's main attraction for me initially was the cast. It is the type of drama I'd try out even if it didn't have my favourite actor in it, but it's always a plus when I get to stare at his face XD
Sakurai Taro lost his parents at a young age, and developed a strong attachment to his grandparents. At the start of the drama, his grandfather had already passed on, hence he treasures every moment he has with his grandmother. He does everything to make sure she's living happily. He has put everything in his life on hold for that reason.
Odagiri Joe plays these types of roles effortlessly. His lazy eyes makes him the best at portraying someone living life without worrying much, and his cute smile depicts his kindness perfectly. 
Kimura Reiko was Taro and Hiroki's classmate back in elementary school. She reappears again as a divorced single mother, trying to make herself a new start in life. Her presence made both Taro and Hiroki realize that time is moving, and will not wait for anyone. Her presence specially affects Taro's life, as he is being forced to move forward in life. What is interesting about her is, when bringing up the past, she is always one to bring new perspective to Taro and Hiroki's memory.
I've become Ono Machiko's fan since Saikou no Rokon. I can't imagine another actor portraying Reiko better than her. She looks natural and down to earth, and can easily illustrate with her face all the difficulties her life may have brought, without saying much.
Obachan loves Taro dearly. She really wants him to move on in life and let go of the Candy store. She doesn't want to be a burden to him. At the same time, since she understand's Taro's attachment, she doesn't try to force anything on him. Yachigusa Kaoru is all the sweetness you can ever get. 
Together with Shimazaki Akira (Shimada Kyusaku) and Kaneda Tsuyoshi (Maeno Tomoya), they spend their days in the backyard of Taro's Candy store, eat candies and talk about random things. Saegusa Hiroki was Taro's classmate since their elementary school days. He shares many of Taro's memory. He aspires to become a writer, but up to now, it's not going anywhere.
While only three episodes in, there are other characters and guest stars that have been appearing in each episode. Whether it is our regular cast, or our special guests, this connection we have with the characters always manages to make us self-reflect on our selves, past actions, decisions and where life is taking us. 
I'm not sure where the drama is going, but I'll be following through all the way, enjoying every single second of it, discovering the gem hidden deep down, while digging through the layers at each passing episode. I hope you all find the time to discover his gem as well.